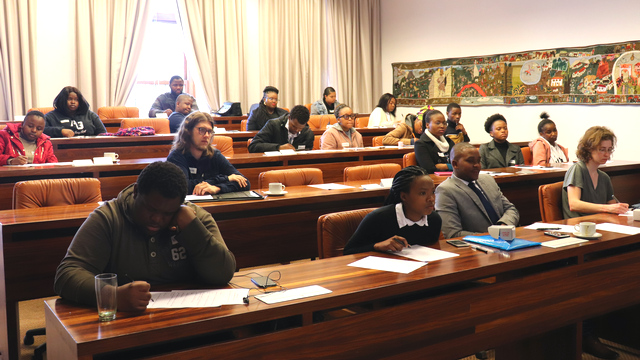 By Siphokazi Mathe, Postgraduate Media Management Student.
The Rhodes University Student Representative Council (SRC) 2019 recently hosted their first annual Student Governance Colloquium.
The colloquium is aimed at creating an engagement platform for Rhodes University student leaders from all the different student governance structures within the University. Designed to open engagements on the internal and external conflicts student leaders face within governance and decision-making, students and academics were eager to engage on ideas of effective, inclusive and accountable student leadership within the SRC.
The Student Governance Colloquium welcomed the insight and perspectives of facilitators, former SRC President, Ms Nhlakanipho Mahlangu; former SRC Vice-President, Ms Grace Moyo; and author Ms Malaika Mahlatsi. Topics included intersectionality and protest spaces, racial demographics and established order, as well as ideas of Pan-Africanism and millennials.
After the results of a majority women Student Representative Council of 2020, from the previous night's inauguration, it only seemed fitting that an all-women panel led the colloquium on student governance and leadership.
Ms Mahlangu began the colloquium with an exploration of intersectionality and leadership. Putting forward that "leaders require an understanding of different identities and oppressions – requiring the development of a language of oppression and identities that is inclusive of all individuals who are being led". She noted that intersectionality is a tool that allows us to understand differing identities, helps us become accountable and cognisant of privilege and personal error in leadership, and this contributes to a concept of authentic leadership and welcoming a heterogenous narrative.
Ms Moyo encouraged attendees to imagine Rhodes University as a person and what the personified institution would represent. Her session was interactive and provoked deep thought into the inheritance of privilege and oppression and how Rhodes University leaders need to aspire and work towards leadership that is both equitable and just.
Ms Mahlatsi closed the colloquium by encouraging Rhodes University student leadership to reimagine a pan-Africanist narrative on campus that prioritises the recognition of the many African narratives present at this institution. She argued that institutions are microcosms of the country at large, so we need to ensure that Rhodes University is creating narratives that are optimistic and inclusive.
The goal of the colloquium is to equip student leaders with information that will be key in their decision-making. The imagination of leadership at the colloquium promises that Rhodes University's student leaders are eager to create a student environment that is inclusive and progressive in its understanding of the student experience at the institution.