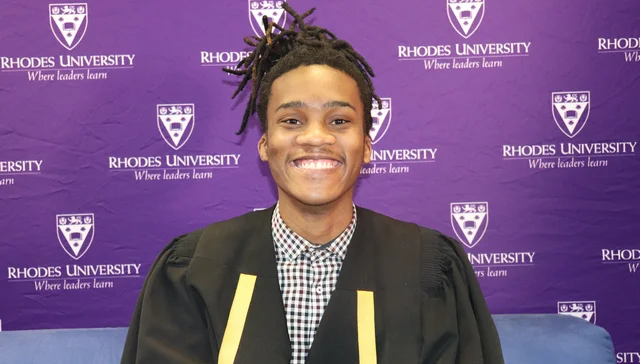 Botlhale Phurulla Modisaotsile has been elected as the Rhodes University Student Representative Council (SRC) President for 2022. The 111th SRC Council election ceremony took place at Eden Groove on Friday, 27 August 2021. Out of the 16 Councillors, 10 are women.
22-year-old Modisaotsile holds a Bachelor of Arts degree in Political and International Studies and Economics and is an Honours candidate in Economics. He was born and raised in Kempton Park, Gauteng where he matriculated at Hoërskool Birchleigh in 2016. He describes himself as a sweet and kind-hearted person and says that women like his mother and grandmother shaped his upbringing. "However, people should not mistake my niceness for weakness. When it comes to leadership, I rise to the occasion and execute my mandate without fear or favour," he cautions.
The incoming President is no stranger to leadership as he has held various leadership positions in Gauteng, his high school, and Rhodes University. He is the Chess manager for the Johannesburg Metro Chess, where he manages teams in the South African Junior Chess Championships. Modisaotsile was the Deputy Head Boy at his former high school. He was an adjudicator for the Debating Society at Rhodes University from 2017 to 2020 and is currently the Student Parliament's Deputy Speaker.
"I am passionate about debate and equipping students because I feel like us being at university should not be merely about studying and passing, but being shaped into young people who can make their mark on the world. Rhodes University is, after all, where leaders learn," he said. Modisaotsile said he was honoured to be elected as the student body president and said he has what it takes to advance the students' interests. He said he was both excited and nervous about the journey ahead but took comfort in knowing that leading is a team effort. "As a politics graduate, I am aware of certain links of power and discourses that I can bring to the fore in student governance. It goes without saying that the 16 of us (SRC) have to work really hard, learn from our predecessors and understand what they went through during their times. We need to be the leaders that learn and learners that lead," he added.
Modisaotsile said one of the things prevalent among students is financial exclusion, and he and his executive will work hard to address this. "We need to see how we can step in and approach stakeholders to assist. However, we need to be cognisant of the practicality, realism, and feasibility to avoid baseless promises. We also need to close the gap between the students and us because some do not even understand what the SRC does. They should be able to hold the SRC accountable," he concluded.
The incoming Vice-President, who currently holds the position of Project Manager in the SRC, Tinashe Hlako said she was confident that Modisaotsile would be able to deal with issues affecting women. She will also ensure that such issues are dealt with extensively. Tinashe is a 21-year-old Bachelor of Arts Law student.
The current SRC President, Leboghang Makghoshi Nkambule, sent her heartfelt congratulations to the newly inaugurated SRC. "The students have spoken and have elected you as their representatives. We trust in your guidance and capabilities in leading us to even greater heights even in these times of great uncertainty, represent students diligently. Represent students' interests and needs and be the voice of the voiceless. Remember, you have all that it takes; it is just going to require all that you have," she said.
Vice-Chancellor, Dr Sizwe Mabizela, congratulated the newly-elected SRC and said: "On behalf of our Council and the entire Rhodes University community, I offer our heartfelt congratulations to the elected leadership. Like generations of students before them, I'm confident that they will fulfil their role as the authentic voice of the Rhodes University student body. As they embark on this journey, I want to assure them of our university leadership support. Their voice as a democratically elected body to represent students matters. Their active participation in the decision-making structures of our university matters."
Dr Mabizela called on the incoming SRC to destigmatise mental health issues and ensure that students receive the help that they need. "Let us work together to create the safest possible environment for our students and staff. Let us encourage each and everyone to vaccinate so that we can reach community immunity and reduce the risk of the spread of the virus," added Dr Mabizela.
"I wish to convey our sincere appreciation and gratitude to the outgoing 2021 SRC for the sterling work they have done to serve under the extraordinary challenging circumstances of the global pandemic. They have done a great job," concluded Dr Mabizela.
The 2022 Student Representative Council includes Secretary-General Nobesuthu Mnkandla; Treasury General, Njabulo Mkhulisa; Academic Councillor, Sisenaloikamva Makwedini; Activism & Transformation, Lebo Ramohapi; Environmental Officer, Anda Mtshintsho; International Affairs, Rumbidzai Gondongwe; Media Officer, Khwezi Maloma, Oppidan Councillor, Omphulusa Nengwekhulu; Projects Manager, Bongani Pellemu; Residence Councillor, Mlungisi Dindili; Student Benefits & Sponsorship, Pfano Mulaudzi; Sports & Societies, Palesa Makoli; Community Engagement, Panashe Maneya, and Postgraduate Affairs, Vuyelwa Moyo.