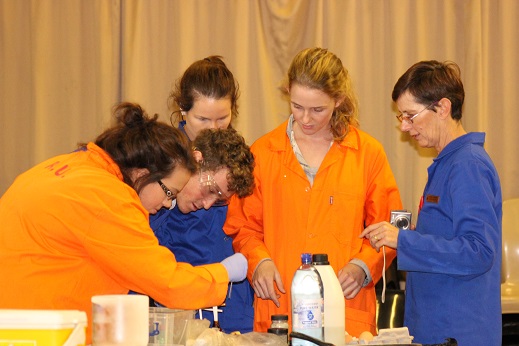 Rhodes > Chemistry > Community Engagement > Latest News
A Pollutant's Tale
Date Released:
Mon, 21 July 2014 15:56 +0200
The Honours students undertook their first Service-Learning activity at Kingswood Junior school. Here they did "A Pollutant's Tale" to an enthusiastic and well-informed group of 50 grade 7 learners. The learners knew all about the gases in the atmosphere, and could recognize the familiar VOCs such vanilla and lavender, but were unaware of the awful smell of the civet cat which get used in perfumes.
Thereafter the learners did an investigation into finding an unknown concentration of HCl, by using the time it takes for magnesium ribbon to react completely in various HCl solutions. The learners also made slime using a PVA solution with various amounts of borax solution to observe the properties of the slime.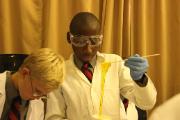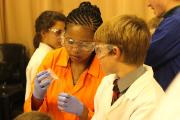 Source:Chemistry Department