Rhodes > Equity and Institutional Culture > Events
Documentary Screening: CALL ME KUCHU
Date:
24 March 2017 18:00 - 24 March 2017 19:30

Location:
Barrat Lecture Theatre 2
Organiser: Babalwa Gusha (Phone 046 603 8754)
Event Type: Alumni



In Uganda, a new bill threatens to make homosexuality punishable by death. David Kato, Uganda's first openly gay man, and retired Anglican Bishop Christopher Senyonjo work against the clock to defeat state-sanctioned homophobia while combatting vicious persecution in their daily lives. But no one is prepared for the brutal murder that shakes their movement to its core and sends shock waves around the world.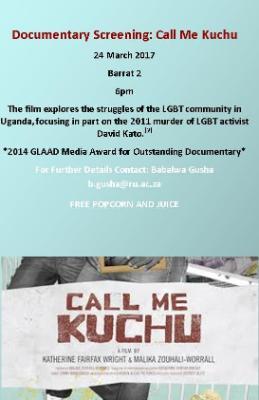 ‌
Save to Google Calendar