Rhodes > IWR
IWR
THE INSTITUTE FOR WATER RESEARCH
Incorporating the Unilever Centre for Environmental Water Quality

(UCEWQ)
Grahamstown - South Africa
‌THE INSTITUTE
The objectives of the IWR are to contribute to the knowledge of and promote the understanding and wise use of natural water resources in southern Africa.
These objectives are achieved in a number of ways:
Research into the structure, function and components of natural water systems
Contract projects aimed at solving specific water-related problems
Teaching at all levels within Rhodes University
Dissemination of information by written articles and public lectures
Service on research and management committees outside Rhodes University
You can read our latest Annual Report
You can read our brief IWR Brochure
For information on Grahamstown and South African water resources and what you can do, please see the RU Environment page.
---
The 125th issue of International Innovation contains an interview with Professors Denis Hughes and Tally Palmer entitled Water Resources Sustainability which you can read via the link.
---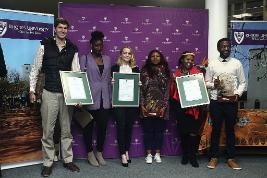 Matthew Weaver (left) receives the award.
Matthew Weaver, a PhD candidate at the Institute for Water Research was awarded the Rhodes University Environmental Award in the individual category. The award was in recognition for the extensive contributions he has made in participatory research processes to improve democratic water governance processes at a provincial and more markedly at a local governance scale in the Makana Local Municipality.
Matthew has been actively involved in the establishment and function of South Africa's first water and sanitation catchment management forum in which both water services and water resource management agendas are integrated. The forum is leading the way in the Eastern Cape in the development of a Water Plan for Makana, a plan that is inclusive of a wide range of stakeholder inputs. He, and Forum partners, have pioneered a Makana Water awareness campaign, taking Grahamstown Residents on an interactive tour of Grahamstown's water supply system. Building water-related awareness and influencing people's behavior in the Grahamstown community has also seen him conduct interactive presentations at Grahamstown schools.
Matthew was acknowledged not only for his contributions to inclusive and effective water governance practices but also for his academic contribution by publishing his work in peer reviewed journals.
The contribution of these efforts made Matthew a worthy recipient of the RU Environmental Individual reward.
Scifest‌ Africa is South Africa's largest science festival. The theme for 2017 was Tour de Science, which references the United Nations International Year of Sustainable Tourism for Development. Scifest Africa is one of the opportunities to give back to the community and share the knowledge gained through scientific studies.
The Institute for Water Research (IWR) had an exhibition that took the visitors on an aquatic journey. The IWR students used hands-on activities to take the visiting scholars through fundamental water processes and explained the use of aquatic insects as indicators of water quality.
Qawekazi Mkabile and David Gwapedza of the Institute for Water Research (IWR) explain how aquatic insects can be used as indicators of water quality
Last Modified: Fri, 08 Dec 2017 10:48:36 SAST