Rhodes > Teaching and Learning > ESU > Staff
Staff
Staff
The staff bring to the department a wide variety of experiences, backgrounds, educational qualifications and personalities.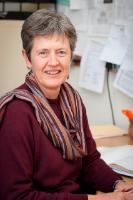 Dr. Karen Ellery
BSc (Hons), Wits; MSc Wits; M Ed (Higher Education), University of Natal
Coordinator - Science Extended Studies Programme
K.Ellery@ru.ac.za

Karen Ellery joined the Extended Studies Unit at the beginning of 2010, having previously worked in student academic development at the University of Witwatersrand and the University of KwaZulu-Natal for over 12 years. She teaches in the Integrated Science Concepts and Methods (ISCM) course and coordinates the Science Extended Studies Programme (SESP).
Karen is passionate about teaching and enjoys working with learners from different backgrounds. Her research interests were initially in the field of science, but now days relate broadly to student learning. She is current registered for her PhD in which she is examining whether the SES programme in general, and the ISCM course in particular, offer students access to appropriate and powerful knowledges on which they can build their disciplinary majors in mainstream.
Karen moved from Durban to Grahamstown with her family (husband and two teenage boys) six years ago. She loves the environment of the Eastern Cape and is interested in exploring ways of living more sustainably.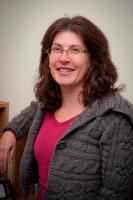 Miss Judith Reynolds
MA (Rhodes), PGDHE (Rhodes), BA (Rhodes)
Coordinator - Humanities Extended Studies Programme
J.Reynolds@ru.ac.za

Judith has an MA from Rhodes in Linguistics and English language. After graduating she worked in Poland for 6 years teaching English as a foreign language and attempting to learn Polish. During the years that she worked in Poland she also taught in the summers in England. From 1998 to 2001 she worked at summer schools for teenagers and then spent three years teaching on a course at Birmingham University for international students coming to the UK to do Masters degrees in business subjects.
Judith returned to Rhodes in 2005 to teach on the Humanities Extended Studies Programme. She teaches the Anthropology and the Journalism and Media Studies Extended Studies courses. Judith is also the coordinator of the Humanities Extended Studies Programme.
Mrs Ivy DeVos
Commerce Coordinator
BCom (Rhodes), Completing PGDHE (Rhodes)
I.Devos@ru.ac.za
Before joining Rhodes University Ivy worked in the banking industry for about 10 years specialising in Investments and Foreign exchange transactions. She currently teaches Accounting 1F and Accounting 1G in the Commerce Extended Studies Programme.
Ivy is presently completing her PGDHE and is hopeful to start on her Masters in Education in due course. She also currently administers the tutor program for the Extended Studies and is also responsible for the tutors' training and feedback programs held at the beginning of the year and mid year respectively. Outside of office hours she enjoys dabbling in the kitchen and has the reputation for the best chocolate cake on campus.
Ms. Corinne Knowles
MA (Rhodes); BA (UPE); HDE (UCT)
C.Knowles@ru.ac.za
Corinne Knowles has been part of the Extended Studies Unit since 2009, and teaches the Sociology and Political & International Studies Extended Studies courses. She also co-ordinates the TAI mentoring programme for ES humanities. Corinne is passionate about teaching, and taught English, Literature and Guidance for 13 years at Secondary Schools in the Eastern Cape before joining the NGO sector. She has worked with and initiated projects to address poverty, HIV, job creation and community building. She started work at Rhodes in 2002 as a fundraiser for university projects. She also helped to develop and run the ACE Life Orientation course for in-service teachers from 2004-2006 in the Rhodes Education Department, has run workshops on a variety of subjects, and read widely on issues in Higher Education. She graduated with an MA in Politics, using Judith Butler to explore gender transformation at Rhodes, in 2011. Her current research interests are to do with teaching and learning, and institutional culture. Corinne is a social justice activist, a poet, a feminist, and an incurable optimist.
Denise Ronel Jeggels
ESU Secretary
Dip. Secretarial certificate (GADRA Commercial Centre), Office
Admin certificate (Rhodes University) & Supervisor certificate:Rhodes University
D.Jeggels@ru.ac.za

Denise joined Rhodes University in 2006 as a clerical intern at the Sol Plaatje Institute for Media Leadership. She joined CHERTL/Extended Studies Unit in 2009 as data capturer and secretary, where she works as a data capturer at CHERTL in the mornings and as a secretary at ESU in the afternoons.
At CHERTL Denise is responsible for capturing student responses onto the Evaluation Assistant for lecturers from the various departments when teaching and/or courses are evaluated. She oversees the scanning of test and exam-related multiple choice response sheets.
In addition, Denise is responsible for all administrative duties and financial services for ESU/TAI, and she assists with student queries.
Mr. Amon Magadza

Coordinator of Computer Science(Tempory)
He is currently studying towards a Master in Education ICT and holds an NHD in Computer Studies, Kushinga Phikelele Polytechnic College (KPPC), Zimbabwe. He has been teaching Computer Studies in the tertiary education environment for the past ten years. Amon currently holds the position of Teaching Assistant within the Rhodes Extended Studies Unit, where he teaches Computer Skills for Commerce and supervises the Mentoring programme. His research interests are in ICT Curriculum Development and Student Support.
Nicky Cockcroft
TAI Coordinator
Nicky completed her BA and HDE at Rhodes. She went on to teach at secondary school level locally and abroad. A return to Rhodes saw her involvement in first year academic development and tutor development, a post she held for 12 years in the School of Journalism and Media Studies. It is through this lens that Nicky has fostered a particular interest in the transition between secondary and tertiary education levels and the challenges which this time often brings. This focus was strengthened by Nicky's work as a TAI Humanities facilitator and her eventual co-ordination of the programme. Nicky has been closely involved in the development and co-ordination of a new residence-based peer mentoring programme at Rhodes, which launched in 2014. Nicky's interests include the influence of affective issues on learning, the construction of knowledge through collaborative learning spaces as well as the development of strategies to encourage student engagement and effect change.
Last Modified: Tue, 30 May 2017 12:06:06 SAST