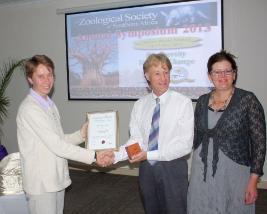 Rhodes > Zoology and Entomology > Latest News
McQuaid gets gold
Date Released:
Fri, 31 October 2014 14:57 +0200
At its recent bi-ennial conference in Tshipise, Limpopo, the Zoological Society of Southern Africa used the occasion to honour outstanding African zoologists. The Society's highest award, the Gold Medal, was conferred on Prof. Christopher McQuaid of Rhodes University, a National Research Foundation A-rated scientist and internationally acclaimed marine biologist. The Gold Medal is awarded for outstanding achievements in zoology, not necessarily restricted to scientific endeavours. In its 54 year history the Society has awarded its Gold Medals to 36 recipients, including such well known zoologists as J. H. Day, R. H. N. Smithers, C. K. Brain, G. N. Louw, J. D. Skinner, and A. C. Brown.

Well done Christopher!
Source:Zoology News