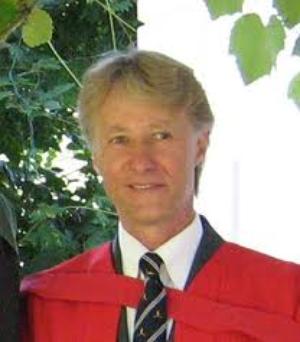 Rhodes > Zoology and Entomology > Latest News
Rhodes honour a leading international scholar
Date Released:
Wed, 18 April 2012 15:57 +0200
A leading international scholar on marine ecosystems and Rhodes University's research Chair in Marine Ecology, Professor Christopher McQuaid, has been honoured with the title of Distinguished Professor by Rhodes University.

The award was bestowed on Prof McQuaid along with two other colleagues – Professors Tebello Nyokong and Paul Maylam - for the first time, during the 2012 Rhodes graduation ceremony.

Prof McQuaid is one of the most prolific and high profile researchers at Rhodes, and one of the most productive and high impact researchers in the country.

"His research outputs are amongst the highest at Rhodes and in the country within his field. His individual contribution to accredited outputs at Rhodes number 10.75 per year on average," said Deputy Vice-Chancellor: Research and Development, Dr Peter Clayton.

Rhodes recognizes outstanding academic staff scholarly reputation and productivity, which has brought great distinction to the University. It is befitting for Rhodes to honour Prof McQuaid for his scholarly work and achievements going back several decades.

The recognition takes the form of the conferment of the title Distinguish Professor, an acknowledgement made sparingly to truly meritorious recipients, which is based on the quality and influence of his achievements throughout his career.

In 2011, Prof McQuaid was awarded an A rating by National Research Foundation (NRF) for his academic achievements. He was recognised by peers as a leading scholar in his field and for the high quality and impact of his recent research output.

"The reviewers agreed that you (Professor McQuaid) can be regarded as the leading marine ecologist in South Africa. You are to be commended for both the quantity and quality of your research output as well as your excellent track record in postgraduate student supervision over the past eight years," said NRF, Monitoring and Evaluation Manager, Ms Joyce Olivier.

"Your rigorous field experiments have provided insight into the spatial and temporal patterns in ecosystem dynamics and contributed to the advancement of marine science," she added.

He also received the prestigious Gilchrist Award for his outstanding contribution to the enhancement of marine and coastal science in South Africa and Southern Ocean last year.

The Gilchrist Award is presented to a "distinguished marine scientist" every three years by the South African Network for Coastal and Oceanic Research (SANCOR).

Throughout his academic career and work, and his mentoring of others, Prof McQuaid has contributed enormously to an intellectual culture at Rhodes that is the envy of many institutions, which is one of love of knowledge, high standards, and hard work.

Prof McQuaid is a model of scholarly success, that even established researchers can learn from, and his research group is amongst the most productive and most diverse in culture and it is widely respected nationally and internationally.

He was recently appointed as a Prestigious Visiting Research Professor to the University of Hong Kong, an honorary position.
Source: