PROSPA Publishing Workshop 2016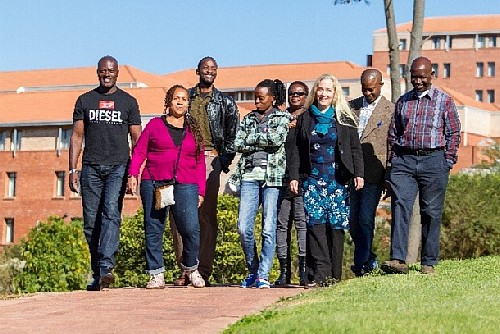 Annual Publishing Workshops are hosted by the PROSPA programme, and take place in different African cities each year. The goals of the workshops are to increase and strengthen publishing in the field of the visual and performing arts of Africa, and to prepare articles for publication in relevant scholarly journals.
The first workshop was hosted by Rhodes University in July 2016, and included participants from Uganda, Zimbabwe, Zambia and South Africa. It was organised by Prof Ruth Simbao and the following participants presented article drafts: Eria Sane Nsubuga (Kampala-based artist), Aidah Nalubowa (Artivists 4 Life, Kampala), Dr Pauline Bullen (Women's University, Zimbabwe), Andrew Mulenga (Rhodes University), Dr Angelo Kakande (Makerere University), Prof George Kyeyune (Makerere University) and Fadzai Muchemwa (National Gallery of Zimbabwe). Dr. Alex Dodd participated in the workshop as a critical reader, and postgraduate students Sikhumbuzo Makadula, Gladys Kalichini, Thando Mama and Jean-Sylvain Tshilumba Mukendi contributed to discussions. This workshop resulted in the first African Arts issue (Summer 2017, 50:2) that is linked to the Rhodes University consortium partnership.
See Gallery for workshop photographs
Last Modified: Wed, 16 Aug 2017 11:27:28 SAST