The 2018 annual PROSPA publishing workshop hosted by the Arts of Africa and Global Souths research programme was held from 19 – 25 November 2018 at the Arts Lounge, Arts of Africa and Global Souths' new offices at Rhodes University, Grahamstown, South Africa.
Participants of the workshop included Dr Dorothy Amenuke, Dr. ka?rî'ka?chä seid'ou, Dr. Edwin Kwesi Bodjawah, George Ampratwum, Kwaku Boafo Kissiedu, and Mohammed Ibrahim Mahamah who all form part of the Blaxtarlines, a collective of students and staff from the Department of Painting and Sculpture at Kwame Nkrumah University of Science and Technology (KNUST) in Kumasi, Ghana. Blaxtarlines was created for the purposes of opening up contemporary art spaces to emerging artists by holding annual end of year exhibitions of the works and activities of the department. Also in attendance was Professor Adepeju Layiwola from the Department of Creative Arts, University of Lagos, Nigeria, Dr Stephen Folaranmi, Rhodes Postdoctoral Fellow with the NRF/DST SARChI Chair Geopolitics and the Arts of Africa programme and NRF SARChI Chair Professor Ruth Simbao who was the organizer and host of the workshop. Dr Pamela Nichols from the University of the Witwatersrand facilitated the last two days of the workshop 23 -24 November.
Discussions of the workshop centered around the activities of the Blaxtarlines collective and papers derived from this workshop will feature in one of the next issues of the Rhodes Consortium African Arts journal.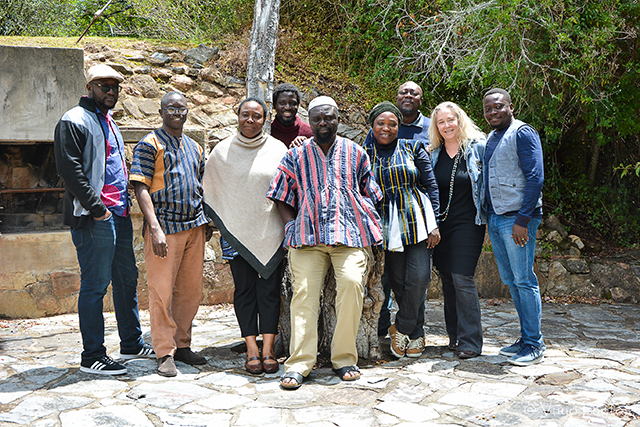 Left to Right: George Ampratwum, Stephen Folaranmi, Peju Layiwola, Ibrahim Mahama, karikacha seidou, Edwin Bodjawah, Dorothy Amenuke, Ruth Simbao and Kwaku "Castro" Kissiedu
See Gallery for more workshop photographs
Last Modified: Fri, 22 Feb 2019 15:02:40 SAST