Postgraduate Studies & Postdoctoral Fellowships
The National Research Foundation SARChI programme offers the opportunity for Postgraduate Bursaries and Postdoctoral Research Fellowships in the Fine Art Department at Rhodes University. The following degrees and research fellowships are offered:
* Honours in Art History and Visual Culture (coursework and thesis, 1 year)
* MA in Art History (thesis only, 2 years)
* MFA in Fine Art Practice (exhibition and thesis, 2 years)
* MFA in Curatorial Practice (curated exhibition and thesis, 2 years)
* PhD in Art History (thesis only, 3 years)
* Postdoctoral Fellowship in Art History or related discipline (research only, 1 year potentially renewable)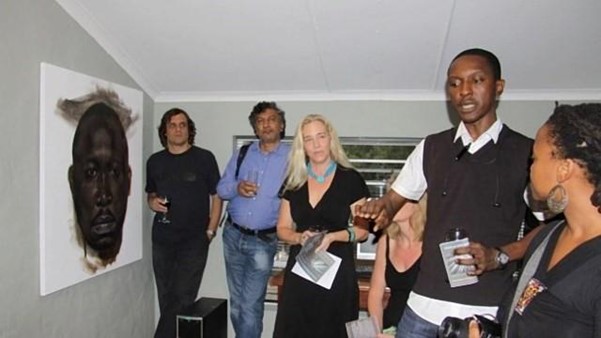 Photo: Launch of the Visual and Performing Arts of Africa research programme, 2011. Paul Cooper, Ismail Mahomed, Ruth Simbao, Christine Dixie, Dotun Makun, Nomusa Makhubu (left to right).
All applicants need to meet the requirements of the Fine Art Department as well as the requirements of National Research Foundation. Annual calls for bursary and fellowship applications are posted in May/June. Please note that positions in the research team are limited and are dependent on available supervision capacity in specific areas of research. All successful applicants who are funded by the Arts of Africa and Global Souths research programme must study full time and be based in Makhanda for the duration of their studies.
Last Modified: Wed, 23 Feb 2022 11:38:49 SAST