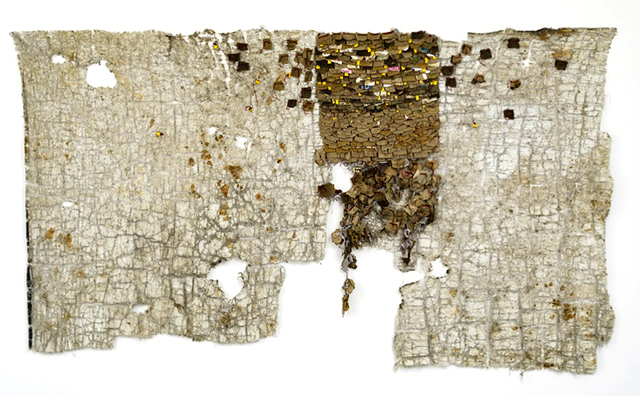 Emergency Exit, is a solo exhibition by Wallen Mapondera (MFA student with the NRF/DST SARChI Chair Geopolitics and the Arts of Africa at the Department of Fine Arts, Rhodes University, South Africa) a multi-disciplinary artist who creates work through painting, drawing, sculpture and installation. Mapondera is best known for his complex wall sculptures, which create richly textured abstract surfaces out of textiles and cardboard and as well as for his paintings whereby he interrogates the human-animal relationship as a metaphor for political power within hierarchies.
An emergency is an occasion requiring instant action. A position, particularly of need for help or liberation and is mostly created by some unexpected events. It could be political, climatic or financial emergency. Since the year 2000, Africa has been battling with alleviating dearth and making better living conditions by cutting extreme poverty, hunger, disease, ecological dilapidation, lack of access to safe drinking water and hygiene. Millennium Development Goals (MDGs) has been set to meet these challenges, yet nothing practical has been instituted to uphold them. Due to self-financing of projects, one can at times fail to make provisions for his/her family and thoughts of reaching a bigger market can only be a dream. Survival becomes dependant on low or no financial savings, hence there is need for an emergency to exit this dilemma.
Mapondera cross-examines and appreciates how people create their exits to fight poverty. Poverty transcends his subconscious psyche; it is part of his lived experience. Banking halls become second homes to most pensioners who receive their retirement funds in banks, as they sleep near the entrance for them to get hard cash the following morning before it runs out. The cash crisis has become the norm to Zimbabwean citizens. In his exhibition, Mapondera outlines how Zimbabwean people see opportunity and capitalize on it, he documents legal and illegal activities happening in the streets. He archives the questionable ways in which oppressive conditions become the new normal, while exploring the routes people take in escaping them. He examines how people creatively invent shortcuts to lead them from hardships and any other challenging circumstances. He comments on the opportunist political parties mushrooming in Zimbabwe seeking attention for funding from NGOs and the West.
Works on show include a series of intricate wall hangings created by distressing and manipulating textiles, adding elements such as collage, waxed cotton thread, cardboard scales, and oil paint. These ethereal pieces serve as complex, abstracted landscapes, their lines and details mapping histories and personal journeys. Depending on where he finds his material, these pieces connect to his personal existence as a general citizen of Zimbabwe. Alongside these are a series of oil paintings on canvas, presenting surreal, unnerving dreamscapes, evocations of the uncertain psychological states of the city space.
Key Words: millenium development goals, MDGs, cash crisis, zimbabwe, zimbabwean citizens, emergency political parties, painting, drawing, sculpture, poverty, hunger, mapondera, tyburn gallery.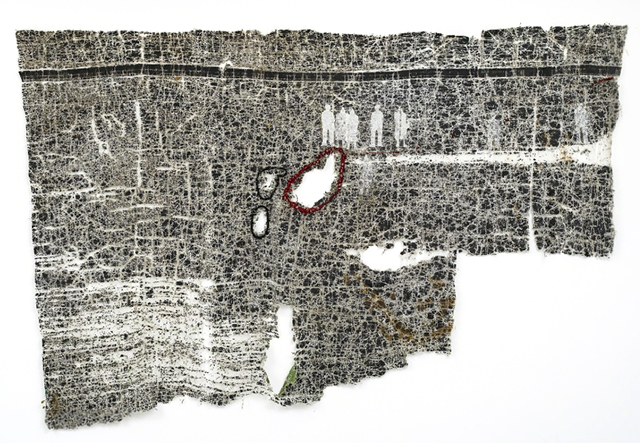 ?
Title: Trap in Plain Sight 2018
Source: Wallen Mapondera
Please help us to raise funds so that we can give all our students a chance to access online teaching and learning. Covid-19 has disrupted our students' education. Don't let the digital divide put their future at risk. Visit www.ru.ac.za/rucoronavirusgateway to donate