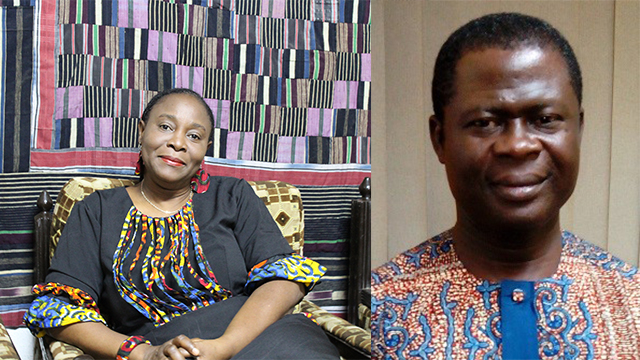 The Arts of Africa and Global Souths research programme warmly invites you to a special Africa Day collaborative seminar on Friday the 25th of May, presented by our two Residencies for Artists and Writers (RAW) Fellows, Prof Adepeju Layiwola and Dr Patrick Oloko.
Internationally renowned for her artistic and scholarly work on Benin heritage and issues of resitution, Prof Layiwola will collaborate with Dr Oloko to present "Reclaiming Memories: Towards the Visual Recording of Layered African Histories". A key aspect of the RAW fellowship is the opportunity for an artist and a writer based on the African continent or within the global south to collaborate in order to contribute towards a shift in the geopolitics of knowledge in the global academy. In particular, it challenges the tendency for the work of artists based in Africa and the south to be theorised predominantly by northern-based scholars. This collaboration brings together an artist and scholar in Fine Art (Prof Layiwola) and a scholar in English (Dr Oloko), both from the University of Lagos, and will result in an exhibition and a co-authored article.
The seminar presentation is on Friday the 25th and will be followed by refreshments.
Time: 2:00 to 4:00 pm
Venue: Fine Art Seminar Room (Somerset Street)
There will also be an open day for Prof Layiwola's exhibition "Return" on Thursday the 14th of June at the new RAW Spot Gallery (details to follow).
Artist's Biography: Prof Peju Layiwola is Professor of Art History and current Head of the Department of Creative Arts at the University of Lagos in Nigeria. She is the scion of a family with a notable tradition in art making. Her mother, Princess Elizabeth Olowu, daughter of Oba Akenzua II, King of Benin who reigned from 1933 to 1978, became renowned as the first female to cast bronze in Nigeria. Layiwola is consolidating on this heritage and also taking advantage of her dual Yoruba and Edo ethnicities to enrich and diversify the range of artistic production and community service. Layiwola attended the University of Benin in Nigeria and obtained a BA in Art in jewellery and metal casting and later proceeded to the University of Ibadan, where she earned a PhD in Visual Arts in 2004. She combines an active studio practice with academic research, works in a variety of media and focuses on personal and communal histories in which Benin is centralized as both an ancient kingdom and a contemporary city. Her various art projects include the solo show, Benin1897.com: Art and the Restitution Question, (Lagos/Ibadan 2010) and the collaborative public art project, Whose Centenary? (Benin City 2014). Her works were featured in Dresden, Germany and Madrid, Spain in 2015/2016 in the exhibition tagged Boundary Objects, hosted by Artefakte, a group based in Berlin, Germany. She has won several grants and nominations such as US Department of State grant for the International Visitors Leadership Program on Cultural Preservation (2011) and has Partnered with the Bronx Museum of Arts, New York in the US State Department sponsored Hilary Clinton SmARTpower Project, (2012). More recently, she has been the recipient of the US Consulate Grant (2017) Goethe Resident Artist Grant, Kunstsammlung Noldtrine Westfalen, in Düsseldorf, Germany (2017) and Getty recipient, CAA, Los Angeles. In 2004, she founded an NGO, the Women and Youth Art Foundation (WyArt), where she puts her art at the service of the community by imparting relevant skills to women and youths outside the university environment. She serves as facilitator for the Bruce Onobrakpeya Foundation and the Omooba Yemisi Shyllon/Unilag Art workshops.
Writer's Biography: Dr Patrick Oloko is a Senior Lecturer in the Department of English, University of Lagos, Nigeria. His specializations are African postcolonial literature, gender studies and popular cultural studies. In his engagements with African postcolonial literature, Dr. Oloko focuses mainly on writers who are prolific but remain relatively understudied. He is the editor of The Fiction of Akachi Adimora-Ezeigbo: Issues & Perspectives (2008) and In Theory and In Practice: Engaging the Writings of Hope Eghagha (2015). Both are inaugural book-length studies of Nigerian creative writers whose works are currently enjoying global visibility.
Dr. Oloko's interest in gender studies is centered on analyzing how ideology and aesthetics converge in the creative productions of female writers of feminist orientations such as Flora Nwapa, Tsitsi Dangaremgba, Mariam Warner-Vieyra and Ama Ata Aidoo. That is, how their productions figure within the overall aesthetics and infrastructure of the novel as a genre of literature. In these ways, he investigates how literary representations of the increasingly egalitarian global social order can (re) shape our understanding of gender and its role in the 'new world' order or 'post-feminist' society. His essays in this field and related issues are published in numerous journals and books.
The training of Dr. Oloko as a literary critic has positioned him for a more eclectic and interdisciplinary task of analyzing cultural materials in other genres and media. The ways that written and oral literatures, the plastic, performance and verbal arts dovetail with one another within the spectrum of the narrative is only becoming clearer as artists and writers reshape their techniques to meet new tastes and interests. His research in this direction is geared towards understanding the complementarities of forms and the intrinsic and extrinsic exchanges and undercurrents shaping their dynamic frames. The RAW residency at Rhodes University is therefore a pivotal moment for him to engage the visual productions of the Nigerian Artist, Peju Layiwola. In his focus on her expected productions, he hopes to conceptualize a 'scholarly turn' in the way that cultural materials are analyzed, using the lens of a literary critic to view visual and performance forms and demonstrating how they produce cultural knowledge through their entanglements or differentiations. Dr Oloko has been the recipient of many fellowships and travel grants such as the Cadbury Visiting Fellowship at the University of Birmingham (2010); the German Research Council grant for his study of publishing in early postcolonial Nigeria (2011) and the DFG/ Point Sud grant to organize a workshop on popular culture in Ougadougou, Burkina Faso (2013). He was the Regional Coordinator (working with Professor Stephanie Newell, currently of Yale University) for The Cultural Politics of Dirt in Africa: 1880-Present, a European Research Council project funded under framework of FP7, Advanced Investigator Grant.
Source: Rhodes University
Please help us to raise funds so that we can give all our students a chance to access online teaching and learning. Covid-19 has disrupted our students' education. Don't let the digital divide put their future at risk. Visit www.ru.ac.za/rucoronavirusgateway to donate