CE Week
Join Community Engagement for a week of reflection and discussion around community engagement in its different forms. Community Engagement week is an annual event exploring various community engagement activities across the region. Community partners, students and academics are invited to attend and participate in our five events which will take place each day of the week of 9 to 13 May.
For more information about CE Week 2022, please contact Luyanda at l.hadebe@ru.ac.za.
Monday 9 May
Panel Discussion with CE Graduates: The Development of Graduate Attributes through Community Engagement
Join five generations of Student Volunteer of the Year winners from the annual CE Awards, in a virtual discussion about the role community engagement played in their academic and personal development. The discussion will reflect on the environment community engagement creates to nurture student potential and critique what universities could be doing better to foster relevant graduate attributes for today's world.
Facilitator: Anna Talbot (2016)
Panelists: Luyanda Hadebe (2021), Claire McCann (2020), Sesona Yedwa (2018) and Sanele Ngubo ( 2017)
Join via Zoom: bit.ly/graduatepanelceweek22
Meeting ID: 726 665 9267
Passcode: tqL9b0
Contact Anna Talbot for more information
a.talbot@ru.ac.za
Tuesday 10 May
VC's Distinguished Award Lecture by Prof. Rod Walker
Professor Roderick Walker from the Rhodes University Faculty of Pharmacy has been named the recipient of the prestigious 2021 Vice Chancellor's Distinguished Award for Community Engagement. He describes this honour as "a wonderful recognition of the many who supported, facilitated and assisted in ensuring the success of the sanitiser project".
Prof Walker will be presenting on his project, Pharmacists Partnering for the Pandemic at the lecture.
Prof. Rod Walker, has, over the past two years displayed initiative, determination, and creativity in his response to an unprecedented global health crisis, as well as commitment to developing Rhodes University as a socially-responsive institution through his leadership of the COVID-19 Response: Hand Sanitiser Manufacturing Project.
Prof . Walker is commended for his ability to harness years of academic knowledge to pivot quickly to provide an appropriate and effective response to a global and local crisis. The rigor of the process of setting up the project and sustaining it through reciprocal partnerships and teaching and learning and research endeavours are acknowledged. Moreover, the emotional weight that this project carried at a time of great fear, anxiety and tragedy, is greatly appreciated.
Read more about the award here.
All are welcome to attend in person or via Zoom.
TIME: 18:30
VENUE: Eden Grove Red Lecture Theatre, Lucas Avenue, Rhodes University
ZOOM LINK: Will be provided next week.
Wednesday 11 May
Community Engagement Imbizo
Students and community partners are encouraged to take part in the Imbizo! The Imbizo is a platform for students and partners to share their experiences and critical reflections on the scholarship of engagement. Workshops to help students and partners prepare for their presentations will take place before the Imbizo.
All are encouraged to participate and attend at no cost.
TIME: 8:00 to 16:30
VENUE: AMAZWI, 25A Worcester Street
*Registration is from 8:00 to 8:30
Contact Rene Oosthuizen for more information, to participate in workshops and/or to present or attend the imbizo.
r.oosthuizen@ru.ac.za
Thursday 12 May
Cheese, wine and storytelling
Join the Social Innovation Hub for a wine and cheese event where we'll discuss how to use the digital storytelling method in learning and teaching, and in academic research - as both a participatory data collection tool or a means of disseminating findings from research projects. Digital storytelling has emerged as a strong method in academic spaces . Find out more about how you can use digital storytelling to enhance your academic projects.
TIME: 18:00 to 20:00
VENUE: RUCE, Social Innovation Hub, 5 Prince Alfred Street, Rhodes University
Or attend virtually via Zoom. Link to register: bit.ly/dstregisterceweek22
For more information and to RSVP, please contact Thandiwe Matyobeni
t.matyobeni@ru.ac.za
Friday 13 May
Unity Friday
Community Engagement invites you to attend an afternoon of games and chilling! Meet other young leaders and activie citizens and find out more about what community engagement activities happen in our communities. We'll have a wide variety of games, including indigenous games, as well as other fun activities. Refreshments will also be served.
TIME: 12:00 to 14:00
VENUE: RUCE Lawns and car park, Prince Alfred Street, Rhodes Univeristy
For more information and to RSVP, please contact Hlengiwe at mlambomahlengy.078@gmail.com.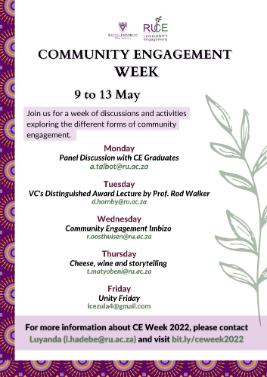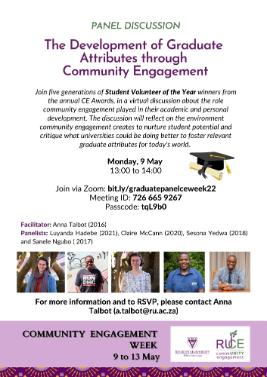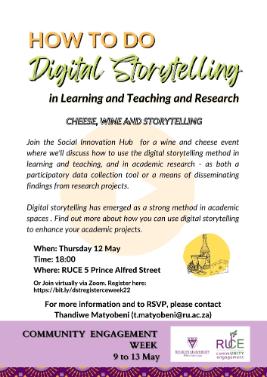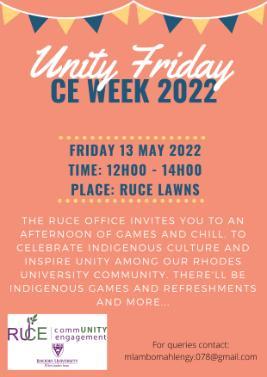 Last Modified: Wed, 04 May 2022 15:31:18 SAST