Excited 9/10ths mentees hand in their Rhodes University 2019 Applications
32 Nine Tenths Mentoring Programme mentees from Nombulelo Secondary and Mary Waters High School have qualified to apply to Rhodes University for the 2019 academic year. The learners handed in their application forms with such jubilation and excitement.
Celebrating Women in Engagement – Babsy Makombe
Babsy started being involved in Community Engagement in 2012 when she joined a community project run by Stenden SA University. The project was based in her home town, Port Alfred. She volunteered in a computer center opened by the University where she taught computer skills. She says that she saw this as an opportunity to contribute and be part of a programme that would make a difference in people's professional careers. After her involvement at the center she came to Makhanda and joined GADRA Education in 2014, where she now works as the Administrative and Advocacy Manager.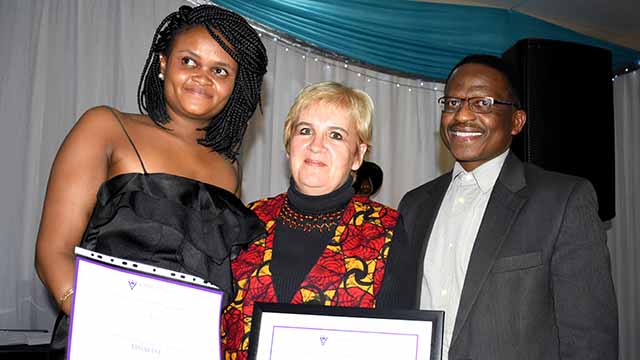 Celebrating women in community engagement
Rhodes University master's student, Thandiswa Nqowana, is tackling the Grahamstown water issue and uplifting the community at the same time.
Celebrating Women in Community Engagement – Nosi Ngqwala
Dr Nosiphiwe 'Nosi' Ngqwala has charted an inspiring personal, professional and academic journey at Rhodes University thus far. Dr Ngqwala has a PhD in Pharmaceutical chemistry. She is also a Hall Fellow at Hobson House and a Faculty advisor for Enactus Society. In 2014, Dr Ngqwala founded Children of the Soil (COTS) – a Non-Profit Organisation – as a directsolution to some of the challenges she has identified in Grahamstown.
Engagement in Action Podcast Series