Sample MENU
BANQUETS
Price per person, (depending on budgetary constraints), from R90.00 per person (excluding drinks).
FINGER LUNCHEONS / COCKTAIL PARTIES
Finger luncheons and/or cocktail parties can be arranged on request from R40.00 per person (excluding drinks).
SAMPLE MENU
There are seperate internal rates for Rhodes internal event catering.
Internal Functions Sample Menu
Functions Sample Menu_ External.pdf External Functions Sample Menu
CATERING ORDERS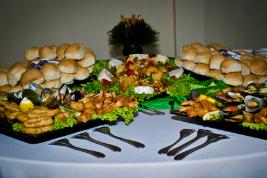 Catering orders should be placed with the Special Events Catering (Functions Kitchen) Assistant by email or fax (046) 603 8129 (See attached Tea/Lunch/Dinner Request Forms). Note that orders should be placed well in advance of an event to ensure efficient service and timeous delivery. No order is accepted after 48 hours prior to an event.
Any special dietary requirements, e.g. Hindu / Halaal and vegetarian, should be stipulated with an order.
Function and Event Catering Request Form.pdf Functions Catering Request Form
Tea request form.pdf Tea order requisition form
Last Modified: Thu, 18 Apr 2019 11:16:24 SAST