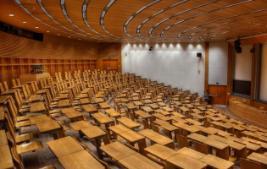 COLLEGES are facing acute funding, human resources and infrastructure problems that are threatening their viability.
The sector includes technical and vocational education and training colleges, as well as community education and training colleges.
The newly introduced community education and training colleges emerged from the merger of public adult learning centres.
The problems besetting the sector will likely make them a hard sell to prospective students as institutions of choice, as envisioned by government as part of its plan to ease pressure on universities.
The white paper for post-school education and training envisages expanding enrolments at colleges from about 700,000 to 2.5-million by 2030. The National Development Plan states that the college system is not effective, is too small and has poor output.
Department of Higher Education and Training director-general Gwebinkundla Qonde said colleges had to grapple with both financial and social pressures.
In addition, the R6bn in state funding given to the sector was not adequate, but indications were this would not increase in 2017, said Qonde who was briefing members of Parliament's higher education and training portfolio committee on Wednesday on the latest developments at colleges.
The sector's problems are symptomatic of the crisis in broader higher education and training. Universities remain on tenterhooks amid uncertainty over fee increases for 2017 and growing threats of fresh student protests.
Qonde said state subsidies covered only 53% of costs and this had left many colleges in financial dire straits. The colleges also face student unrest.
Qonde said the National Skills Fund was approached to make funds available for urgent maintenance at colleges that were under financial distress.
Comprehensive work plans are being put in place for the skills development of college lecturers.
EU funding totalling €26m has been made available for capacitating universities to offer college lecturer qualifications, said Qonde.
Qonde said 40% of lecturers at community education and training colleges were unqualified or underqualified and funding was a problem. The colleges are also hampered by inadequate learning and teaching material, and a lack of appropriate infrastructure.
A task team has been set up to provide advice on programmes and qualifications, as well as funding and costing models.
DA MP and higher education and training spokeswoman Belinda Bozzoli said yet another educational crisis was emerging under the "failing government of President Jacob Zuma, this time in the college sector".
"The DA calls upon Treasury to take seriously this statement, against a background of simultaneous university underfunding, student riots, the fee-free movement and shrinking budgets."
She said the DA welcomed the fact that the National Skills Fund was assisting the college sector financially, but believed that the contributions of the fund, and some of the Setas (sector education and training authorities), would not make a serious dent in the basic funding shortfall in the sector.
Source: Business Day
Please help us to raise funds so that we can give all our students a chance to access online teaching and learning. Covid-19 has disrupted our students' education. Don't let the digital divide put their future at risk. Visit www.ru.ac.za/rucoronavirusgateway to donate