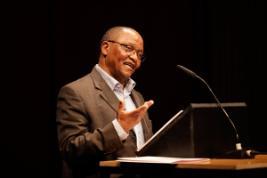 The student said that the burning of campus property can't outweigh the suffering of black students.
The UJ chancellor spoke against "fire as a weapon of protest."
According to Ndebele the burning down of buildings in protest has increased significantly which is a cause for concern, "since the bonfire of artworks at UCT earlier this year, fire as a weapon of protest has spread throughout the higher education system".
This year a number of campus buildings, libraries and schools have been burnt to the ground during protests, including UJ's own Sanlam Auditorium in May. The latest incident is the burning down of a law library at UKZN.
While he commended students from the Fees Must Fall and Rhodes Must Fall Movements for their fight for free higher education for the poor and the decolonisation of historically white institutions, Ndebele warned that burning buildings could have the opposite effect, "The assimilative nature of powerful oppressions can be reproduced by those that fight them, unwarily drawing them into a vicious cycle".
The chancellor acknowledges the urge by black students to want to get rid of "white colonial" objects and legacies that make it impossible for them to "breathe" on the very campuses they occupy- but questions whether total erasure is possible, "Human memory exists independently of its physical representations, in the realms of the mind and imagination. In my book, total erasure is not possible".
The chancellor was confronted by one of his own students after his lecture- who called Ndebele out for not understanding the full extent of a black student's plight. Property management Honours student Cleopatra Mutsila accused Ndebele of distorting the change students are fighting for, "when we speak of decolonisation we are not speaking about us being integrated into an already anti-black society, we are talking about dismantling the whole society and making it an africanized one".
Mutsila says universities refuse to listen to students and their concerns which are broad," he talks as though the students from Rhodes Must Fall are in better places. We continue to be silenced by the universities, the very same people suspended for being involved in the Fees Must Fall and Rhodes Must Fall movements will be attending a tribunal. For him to say we experience black pain on campus only is problematic-black pain goes beyond campus into townships".
The 24 year old added not enough outrage is directed at the unequal standards of living black people are still subjected to two decades into democracy, "When black people continue to be oppressed, when we speak about black pain, when black people die every day in this country nobody says anything. You burn a building in a white institution everyone is up in arms telling us we are hooligans."
Source: Jacaranda FM News
Please help us to raise funds so that we can give all our students a chance to access online teaching and learning. Covid-19 has disrupted our students' education. Don't let the digital divide put their future at risk. Visit www.ru.ac.za/rucoronavirusgateway to donate