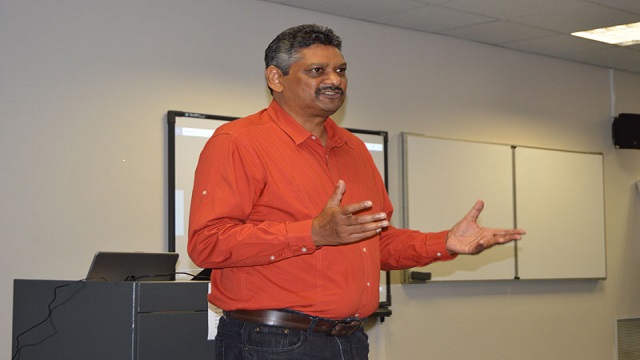 Decolonisation of higher education is set to play a fundamental role within South African universities and CUT is making sure that it is as close to the frontline as possible. On 2 and 3 March, the university hosted Prof. Kiren Thathiah in Visual Art and Design from the Vaal University of Technology (VUT) to present a workshop on decolonization of higher education.
The subject of this workshop is not accidental but emanates from transformational challenges facing higher education and society at large which include, but not limited to, access to higher education, rights to equal participation in education, funding and curriculum transformation.
In his presentation, Prof. Thathiah spoke about contextualisation and understanding of the challenges facing higher education sector. "The on-going national student protest and demand for decolonised education caught most institutions by surprise and the institutional response to the demand has been mostly academic and defensive" he said.
In his observation, he realised that the current debate on the matter seems to be in two extremes which are the fees-must-fall protests that turned to be dramatic and violent, while the response turned to be academic and dry.
"To understand decolonisation one first needs to know colonisation is all about. In this regard, colonisation is the action or process of establishing control over the indigenous people and decolonization is the undoing of colonialism, where colonised peoples revive their own history, culture, language and identity", he told the audience.
"This big word 'decolonisation' seems to be the hottest topic on the back of the impact of the #FeesMustFall movement and if my suspicions are correct, it has been a long time coming", said Prof. David Ngidi, Deputy Vice-Chancellor: Teaching and Learning in his welcome address. He said that curriculum transformation is a cornerstone of the transformation imperative at CUT. 2016 was the first year of the implementation of no fee increases and insourcing, both of which had placed a severe financial strain on many public universities as subsidies decreased and operational costs increased. "We would have failed in our mission if our staff and students are unable to reach consensus on the salient common elements that should form part of the sector-wide transformation. Our objective must be to craft a framework, guide institutional transformation, enable interaction and dialogue on cross-cutting areas in transformation and to establish a common yardstick to measure the pace, culture, direction and purpose of transformation within the university." CUT has a huge responsibility on its shoulders in beginning to chart the way forward, hence this gathering here today", he concluded.
Currently, universities are beginning to take a keen interest in this debate, and the workshop offered CUT a strategic platform to take the lead in this debate. The foundational idea for the workshop is simply to get the process of decolonisation driven at all levels in an inclusive and non-threatening manner. This is also an essential academic project that will inform the institutional development and open up ways of rethinking the university curriculum.
Source: CUT Newsroom
Please help us to raise funds so that we can give all our students a chance to access online teaching and learning. Covid-19 has disrupted our students' education. Don't let the digital divide put their future at risk. Visit www.ru.ac.za/rucoronavirusgateway to donate