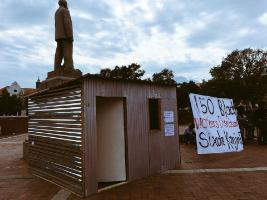 Francesca Villette
STUDENTS adamant that dismissed outsourced workers be reinstated at Stellenbosch University (SU), highlighted the plight of 150 former employees yesterday.
They erected a shack on the university's Rooiplein to exhibit how many of the workers lived and to protest their dismissal.
At the end of last year, heated demonstrations protesting the outsourcing flared up across university campuses.
It was during these protests that 150 workers at SU were also dismissed, most of them having been involved in landscaping and as private security staff. Following that the university placed a moratorium on outsourcing.
Yesterday, about 100 concerned students gathered on Rooiplein and remained peaceful during their demonstration.
A notice was pasted on the zinc wall of the shack by SU management, ordering the shack be removed by the afternoon or legal action would be taken. The notice also warned that those who damaged university property would be held liable.
When students and supporters refused to take down the shack, university staff then did.
Students remained peaceful and a stun grenade was used to disperse them.
Police, metro officials and university management have denied using the stun grenade.
SU spokesperson Martin Viljoen said no legal action was taken against any student yesterday and there was no damage to property.
One of the dismissed workers, Simthandile Matiwane, 26, said since his dismissal he has been doing odd jobs to feed his family. He is the breadwinner in his family of five. "I am struggling and have to ask my neighbours if I can help out around their houses for payment," Matiwane said.
Student Gcobisa Yani said it was cruel how workers lived, and even more cruel that they were dismissed while protesting for a better life.
Eighty-eight of the 150 dismissed workers were contracted by G4S Secure Solutions. Company spokesperson Wendy Hardy said new staff were appointed as security at the university.
Source: Independent Online
Please help us to raise funds so that we can give all our students a chance to access online teaching and learning. Covid-19 has disrupted our students' education. Don't let the digital divide put their future at risk. Visit www.ru.ac.za/rucoronavirusgateway to donate