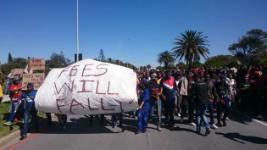 BY: Derrick Spies,
Port Elizabeth - Nelson Mandela Metropolitan University (NMMU) has warned that a further two-week shutdown of the institution will have an irrevocable impact on the 2016 academic calendar.
Addressing the media on Tuesday, NMMU acting vice chancellor Dr Sibongile Muthwa said management wanted to resume the academic programme as soon as possible. A further two weeks of disruptions would result in the university not being able to complete the academic year, she said.
"We would like to resume tomorrow, or even today, we did not want to close NMMU, but we have found ourselves in this situation and we have to act in the interests of the students and staff to ensure their safety," she said.
A presentation by executive financial director Michael Monaghan showed that the university had provided R21.7m in National Student Financial Aid Scheme (NSFAS) loan funding to 1 531 students in 2015.
They also provided a further exemption of the minimum down payment for 2016 registrations to 5 043 students, which had resulted in a R30m deficit in the cash flow of the university by February this year.
Monaghan said in 2016 a further R25.1m was provided to assist indigent students with food, books and accommodation. He said the impact of no fee increase for 2016 had resulted in a R52m shortfall, of which only 70% was covered by the Department of Higher Education and Training's fee shortfall subsidy.
He said an increase of 8% per annum would still see the university running at a deficit of R50m in the first year, R20m deficit in year two and just about breaking even in the third year.
Following the ongoing shutdown of the university a petition has been launched by Advocate Terry Price. It has already received 1 900 signatures as of Tuesday night.
'Silent and intimidated majority'
"The ongoing unlawful protests taking place at Nelson Mandela Metropolitan University are preventing many of the students from attending lectures and thus are a violation of our constitutional right to education," the petition reads.
"We are missing lectures and tests. As the 'silent and intimidated' majority of the university students, we do not condone this unlawful behaviour and believe that the university should be protecting the rights of the majority of our students, rather than pandering to the whims of a small group of unlawful attention-seekers."
"If you believe, like us, that the university needs to make a plan to provide us with the education we are paying a lot of money for, and in particular, to provide us with safe access to lectures and tests, please put your money where your mouth is, and sign the petition attached."
Price said the petition will be presented to the university as part of legal action compelling them to fulfil their legal duties by "ensuring that the students have safe access to the university, as well as to lectures and tests, and that these unlawful protests are no longer tolerated by the university".
Muthwa said she was aware of parents and other community members calling for the university to take legal action against the protesting students, but said universities who had pursued similar courses of action were seeing a flare up of violence and vandalism on campuses.
"We have opted not to go the route of getting a court interdict against the students as we fear that this will only escalate matters," she said.
Muthwa said the university had opted to rather engage in dialogue with the students to try and resolve the matter peacefully but said that they would not rule out an interdict as a last resort.
Source: News 24
Please help us to raise funds so that we can give all our students a chance to access online teaching and learning. Covid-19 has disrupted our students' education. Don't let the digital divide put their future at risk. Visit www.ru.ac.za/rucoronavirusgateway to donate