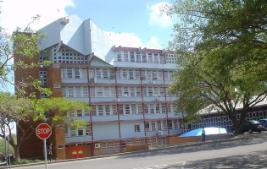 BY: Zoe Mahopo
The University of Limpopo's Mankweng campus remained shut down on Tuesday as students participated in #FeeMustFall demonstrations which have swept varsities across the country.
The university's management had announced on Monday that academic activities at the institution would only cease for two days with an expectation that classes would resume on Wednesday.
However Deputy Secretary for the EFF Student Command Saasa Nhleko said it was highly unlikely that things would go back to normal anytime soon.
Nhleko said they were embarking on the shutdown in solidarity with fellow students at other varsities who have been calling for government to declare free education for all. "The university must shut down. This is not a strike. This is the start of a revolution. Our enemy is not the university because the university will never give us free education. Our enemy is the state'" he said.
Police Nyalas were stationed next to one of the entrances to the Campus where students had congregated. Most of the local shops at the Mankweng shopping complex were closed' with only street vendors operating.
Spokesperson for the university Kgalema Mohuba said academic activities had been suspended while the administrative functions of the institution continued.
He said management was forced to ask staff to leave the campus on Monday after some students went around threatening them. He said staff had returned to work on Tuesday however the university was also dealing with electricity issues.
Mohuba said the university could not announce its stance on Basic Education Minister Blade Nzimande's recent 8% fee increase announcement because they had not been given an opportunity to meet with the student leadership. He such a decision could only be made after such consultations.
Source: Times Live
Please help us to raise funds so that we can give all our students a chance to access online teaching and learning. Covid-19 has disrupted our students' education. Don't let the digital divide put their future at risk. Visit www.ru.ac.za/rucoronavirusgateway to donate