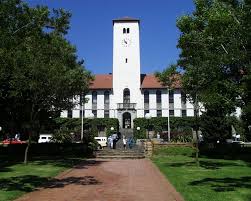 The last week witnessed the inauguration of the Rhodes University Disability Week. The Disability Committee, through the Office of Equity and Institutional Culture, convened a number of events and activities that were designed not only to raise awareness of the barriers that prevent some members of our society who have visible and non-visible impairments from accessing education, but also to practically demonstrate how some of these barriers can be removed from the various spaces of the institution including the lecture room. It was gratifying to note that these events attracted the interest of a significant number of staff and students.
The ending of the inaugural Disability Awareness Week provides me with an opportunity to reiterate my full recognition of and unqualified support for the imperative to remove the physical, social and psychological barriers that render some members of our staff and students disabled and that prevent some members of our society from applying to and entering the institution to contribute to and benefit from its intellectual and social offerings.
The imperative to be an inclusive institution is not only dictated to us by our Constitution but it is also dictated to us by our stated values. Indeed, inclusivity in our society is fundamentally a transformation issue.
I acknowledge that we have a long way to go before we can say we have met this imperative. I recognise that as an institution we need to examine objectively and carefully the reasons for our having fallen short of our values and having not made Rhodes a true 'a home for all' by not providing an enabling and supportive environment for our staff members and students with visible and non-visible impairments. Again, I recognise that we need to examine objectively and carefully the reasons for our failure to attract more students and staff with impairments to our institution.
In recognising our limitations in this endeavour, we have to ask ourselves whether we have dedicated a fair share of the resources that we have towards creating an environment that enables access for all to what our institution has to offer. In recognising the challenge facing us, we have to ask ourselves whether we have dedicated the resources and efforts necessary to raise funds that will enable us to achieve our goal. In recognising the great need there is for us to achieve this goal, we have to ask ourselves whether we are working with the necessary urgency to begin to take significant steps towards making this institution universally accessible.
The interest shown by staff and students by participating in the events convened during the Disability Week is deeply encouraging and gratifying. The week demonstrated yet again that existing structures and processes of the university can be used to increase our levels of inclusivity. The various Departments could, for example, hold regular seminars where research on disability, whether conducted in-house or from outside, can be shared. Staff and students with disabilities could be encouraged to share their experiences if they are willing to do so. Disability issues could be included in the course content of disciplines as diverse as Education, Linguistics and Computer Science. Through increased awareness, observation and through the sharing of practice and through learning from the experiences of other institutions and from the feedback we receive from our stakeholders we can, from wherever we are positioned in the institution, contribute to the development of an institution that is accessible to all and that does not disable current and potential students and staff. Creating and sustaining a welcoming, affirming and supportive institutional environment for people with disabilities is a social justice imperative that we must advance to the best of our abilities.
I wish to thank the Disability Committee and the Equity & institutional Culture Directorate for organising a very successful inaugural Disability Week.
Sizwe Mabizela
Vice-Chancellor, Rhodes University
Source: Rhodes University
Please help us to raise funds so that we can give all our students a chance to access online teaching and learning. Covid-19 has disrupted our students' education. Don't let the digital divide put their future at risk. Visit www.ru.ac.za/rucoronavirusgateway to donate