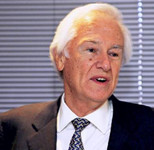 Gray, who heads an investment fund in his own name, is also reckoned to be the wealthiest man in all Africa.
Allan Gray, CEO of Allan Gray Limited has succeeded for many years in keeping his profile down and the extent of his wealth well under wraps. However thanks to Nigerian publication Ventures Africa who recently released their Richest People in Africa 2013 list, Gray came onto the list with a major bullet thanks to an estimated personal fortune of $8.5 billion (85 billion South African Rand).
Not that Gray accumulated all that wealth in the last twelve months or since the last time that the list was compiled, but more the fact that as his business empire has never been publicly quoted, no one could ever estimate exactly how much he was worth, not even the Forbes magazine who regularly compile their 40 Richest in Africa list.
Forbes as well as other global organizations that make it their business to track personal wealth, usually does so by targeting the majority shareholders of blue chip companies listed on the stock exchanges of the world. Using these figures as a basis they are able to compile exactly how much these top players on the global financial seen our work.
While Ventures Africa are keeping mum on the sources of information, what is for sure is that Gray has been running a very successful investment company for a large number of years, based both in South Africa and in Bermuda. During the 40 years that Alan Gray Limited has been trading in South Africa and Orbis, an asset management company which Grey founded in 1989, and trades out of Bermuda, he has consistently succeeded in delivering tremendous returns for his clients through his knack of sourcing and later investing in companies whose market value fails to reflect their current share price.
When he first established his company in South Africa in 1973, Allan Gray focused offering his services to the country's leading institutions and corporations, only beginning to offer a retail service around 25 years later.
Since he began to offer investment services to the public, the Alan Gray Company experienced tremendous growth due to his ability to provide tremendous return on investments, consistently performing his much larger competitors and consequently seeing his company become the darling of the retail investment industry.
Now been recognized as the wealthiest individuals in South Africa, Alan Gray has toppled Nicky Oppenheimer from the top spot, with Oppenheimer falling down the Ventures list to 5th place withestimated net worth of $6.5 billion (65 billion South African Rand) after the family sold their share in the diamond mining giant De Beers in 2011 for $5.1 billion (51 billion South African Rand).
Nicky's grandfather, Sir Ernest Oppenheimer, acquired De Beers in 1927 and went on to build it into the world's largest diamond producer.
Although he has built up a considerable fortune, which he has now been forced to admit, Alan Gray still has a long way to go to pass the continent's wealthiest person Aliko Dangote of Nigeria, who is quite happy to admit that he is worth the considerable sum of $20.2 billion (202 billion South African Rand).
Alan Gray was born and raised in the city of East London situated on the southeast coast of South Africa. After completing high school, Gray went on to study to be a chartered accountant at the Rhodes University in Grahamstown. After graduating from Rhodes, Alan went on to achieve his Masters at the Harvard Business School.
Alan Gray began his professional career in the United States working for the well-known financial services company Fidelity Management and Research based on the East Coast in Boston.
After remaining with Fidelity for eight years, Alan Gray returned to South Africa in 1973 to found his own company which he based in Cape Town, initially providing investment counseling, only later extended his services to institutional clients.
With his South African-based investment company already well-established, Alan Gray set off, initially to London, England to establish the Orbis group, two years later moving to the sunnier climes of Bermuda where the company still operates today, under the supervision of his son, William.
In 2007 Gray established the Allan Gray Foundation, which he capitalized to the tune of $130 million, at that time the single largest donation to charity recorded in South Africa the foundation's role was established in order to fund bursaries for promising South African high school students.
Article Source: http://jewishbusinessnews.com/2013/10/10/allan-gray-climbs-to-the-top-of-the-rich-list-in-south-africa/
Picture: Allan Gray / Getty