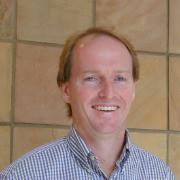 One such need has arisen from the global trend of stakeholders using technology to collaborate beyond their borders. Information Systems (IS) professionals play a crucial role in facilitating this collaboration. Therefore, for Commerce Faculty graduates, mastering these technologies and learning to grapple with clients and cultures situated in distant locations is essential for success.
As a result, Mr Upfold, a senior lecturer in the Department of IS, committed himself to developing a Virtual Collaboration (VC) learning module for the IS Honours class.
"I love lecturing and I do take a genuine interest in innovative ways of adding value via technology, so I was thrilled to receive this award. It was a big deal for me," says Mr Upfold, who was nominated for the award by fellow colleague Mrs Lydia Palmer.
Launched in 2012, the VC module has continued to develop with steadily increasing student numbers and rigorous theoretical and practical perspectives on virtual collaboration with a focus on Virtual Business and eLearning. The module also combines face-to-face lectures interspersed with virtual lectures, allowing students to experience a blended learning environment, a change which Mr Upfold explains as initially taking 'some convincing'.
"The students took some convincing that attending a lecture or rather participating in the module from a residence room or digs in Grahamstown was perfectly acceptable. However it is not about whether you show-up physically but how you engage in and learn from a facilitated online learning environment."
For Mr Upfold the role of the facilitator (lecturer) in managing this transition is crucial and requires appropriate planning, delivery and reflection to make the most of the virtual classroom.
"My own experience has indicated that the facilitator plays a pivotal role, probably amounting to an investment in double the time of preparing a so-called standard talk and chalk type of lecture," explains Mr Upfold. However, according to him this investment offers the chance for lecturers and students alike to enter a classroom in which "the possibilities are almost endless".
By introducing students to Blackboard Collaborate, a collaborative and interactive mobile learning technology, Mr Upfold is able to expose them to a wide range of activities that are not always possible within the confines of a brick-and-mortar classroom. These include the ability to record a session, including all commentary and visual material; the chance for facilitators to invoke a quiz at any point; the ability to move participants into a break out room where they can discuss the session; as well as the chance for presenters to share their desktop with the rest of the group, aiding understanding through demonstration.
However the possibilities do not end there. This virtual classroom has also allowed Mr Upfold to involve industry experts in the VC module from anywhere around the world, without the expense of time or travel.
"I have found many experts in their field who are very willing to be guest lecturers for a particular module but less willing to travel to the Eastern Cape. I believe that given the remote location of Rhodes University, being able to collaborate in this way is a huge advantage," explains Mr Upfold. "I've even had industry experts collaborating and participating with one another's online contributions. This gives rise to interesting discussions and debates and you can only imagine the richness in learning for the students."
Described as "extremely positive" and "totally aligned with the needs of the industry" by one such expert, the VC module will undoubtedly continue to develop, offering students a range of potential new online initiatives such as collaboration with international students taking similar modules around the world.
For Mr Upfold, the possibilities are truly exciting.
"There have been many lessons learned and this initiative remains a work in progress. I look forward to working further in this area. Watch this space!" by Laura Watermeyer
Source: Faculty of Commerce
Please help us to raise funds so that we can give all our students a chance to access online teaching and learning. Covid-19 has disrupted our students' education. Don't let the digital divide put their future at risk. Visit www.ru.ac.za/rucoronavirusgateway to donate