RU Commerce students represent at the Student Leadership Summit
Date Released: Wed, 4 October 2017 16:39 +0200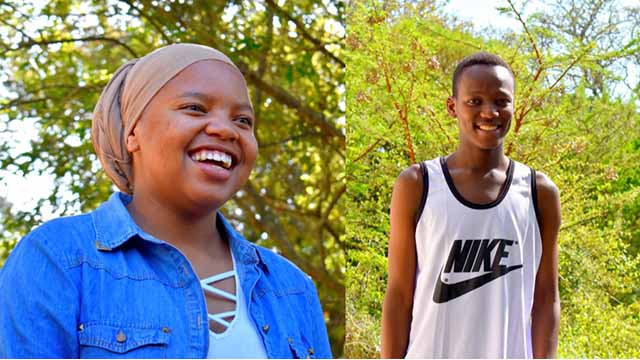 Two Rhodes University Commerce students, Letty Seshoka and Denzel Makombe have been selected to participate in a national Student Leadership programme as part of the top 30 students chosen for the Student Leadership Summit 2017.
The three-day programme which starts on 05 October with the theme, 'Thriving in uncertain times', aims to offer lessons for young members in leadership positions and aspiring leaders of tomorrow. The theme is a response to the fact that society is at the brink of a technological revolution that will fundamentally alter the way business works, intertwined with a landscape of political and economic uncertainty.
Seshoka and Makombe qualified for the Summit following their submission of two brilliant essays on the 'Economic overview – where to next for South Africa' and 'Innovation and the role of disruptive technologies', respectively.
Seshoka, a 19 year old from Kagiso in Gauteng is studying towards being a Chartered Accountant. Her essay is a comprehensive way out of SA's junk status in order to continue selling the country as a viable investment to overseas investors.
"SA's recent downgrade to junk status has meant less jobs, higher interest rates, which result in increased prices. Reinforcing central bank independence can be the way of persuading foreign investors to trust us. There is ample empirical evidence that proves that central bank independence brings about lower inflation, which ensures a more stable environment for economic and employment growth, and as a result, becomes more appealing to foreign investors," explains the soft-spoken youth who is also a Community Engagement Representative for Hobson House.
Makombe wrote an essay on 'Innovation and the role of disruptive technologies', where he argues that a way to ensure one is on par with the world of work and its developments, is for accountants and auditors to dedicate themselves to lifelong learning outside the boardroom.
"The accountant/auditor ought to be an oasis of knowledge that the business draws from when technology seems to fail. If the accountant is constantly educated and kept on par with technology, their relevance will always be eminent," he says.
He adds that, "if the accountant deviates from the cliché number crunching, they are known for and deepen their knowledge of other paths less trodden such as expert consulting and strategic planning, these which face less opposition from technology than most, this will curb/reduce the complete displacement of accountants and auditors by technology".
Makombe, 19, from Pretoria is a second year BComm Accounting student. He is particularly grateful to what he calls "unbelievable and unmatched support from the staff at the Commerce Faculty".
The Summit seeks to encourage and develop leaders at a time where there is a need for strong leadership to navigate this difficult course and flexibility to adapt to a rapidly evolving world in search of holistic long-term success.

Leadership experts from global companies will provide students with the latest practical insights and discuss the most prevalent issues for today's leaders. Those expected to run workshops include, John Sanei, Business Innovation Strategist; Michiel Jonker, Director in the Advisory division at Grant Thornton; Michael Judin, senior partner in the Johannesburg based law firm; Judin Combrinck Inc; Terry Moore, Business Adviser to a number of corporates across a range of industries and lastly; John Smit, former Chief Executive Officer of the Sharks Rugby team.