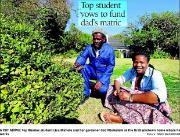 A HARDWORKING masters student would not have made it into Rhodes University five years ago if her gardener father had not accompanied her to campus.
"My dad pleaded with them," prestigious Mandela Rhodes Scholarship student Lisa Maholo recalled yesterday.
Armed with Lisa's school report, which was just not strong enough to give her the points needed to be accepted into university, the clincher was Ntsikelelo Maholo's determination - and the top marks she got for maths and accounting at college in the year after matric.
Lisa realised the family dream when she was accepted in 2009 by programme founder Este Coetsee despite all the positions being filled for the unique Commerce Extended Studies Programme (CESP) partnership with government and Investec corporate social investment.
It is aimed at getting youngsters who just missed out on university into academia.
"They made a space for me because of the commitment and determination of my dad," she explained.
Her proud father said: "It was the happiest day of my life, I hugged Lisa in front of everyone."
According to Maholo doing a four-year CESP degree - instead of the usual three - was a "blessing in disguise".
Only run at top South African universities, the Investec-mentored programme has given hundreds of students who would have fallen through the cracks a second chance.
Growing up in less than ideal financial circumstances, Maholo made a deal with her dad she would fund his dream of completing his matric once she qualified.
Although he only has a Standard 9 and is itching to matriculate, Ntsikelelo yesterday insisted she push for a PhD - which will take another three years once she has finished her masters next year.
"My dad has been encouraging me for some time to do a PhD ... I'm sure my mom Nokhanyiso will flip when she finds out," she chuckled.
But Lisa is hesitant as it would mean her family "will live below the poverty line" for more years.
After growing up in an RDP matchbox with an erratic municipal water supply and no flushing toilet, Maholo is doing her honours in talent management in local municipalities. "I chose this area because I had first-hand experience of municipalities not fully delivering on their promises."
When she is done studying Maholo hopes to work to improve service delivery.
Setlogane Manchidi of Investec CSI said very often it was not the youngsters that failed but rather the education system for not properly preparing them to obtain enough admission points. "Supporting such programmes is about giving people a chance, facilitating access to quality tertiary education."
He said high university dropout rates across the country were often caused by inadequate support. The programme with Rhodes - which includes mentoring - minimised this by nurturing students to succeed.
Rhodes teaching and learning dean Professor Chrissie Boughey said the programme accepted 50 students annually and urged students from the Eastern Cape to apply. "We desperately want students from the province."
Story and picture by David Macgregor
Source: Saturday Dispatch
A CUT ABOVE: Top Rhodes student Lisa Maholo and her gardener dad Ntsikelelo at the Grahamstown home where he works
Source: Saturday Dispatch
Please help us to raise funds so that we can give all our students a chance to access online teaching and learning. Covid-19 has disrupted our students' education. Don't let the digital divide put their future at risk. Visit www.ru.ac.za/rucoronavirusgateway to donate