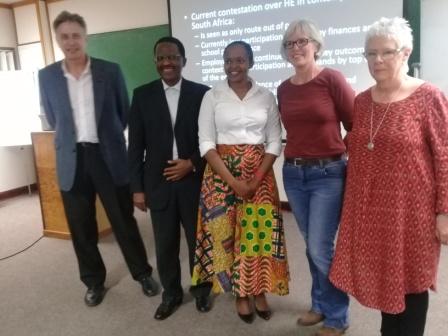 by Xolelwa Ngantweni (Higher Education Studies PhD scholar)
The launch of the book, Going to University- The Influence of Higher Education on the Lives of Young South Africans, took place at Rhodes University on 5th March 2018. The event was a great success and led to much engaged discussion. Notable in the audience was the Rhodes University Vice Chancellor, Dr. Sizwe Mabizela, and Deputy Vice Chancellors, Dr. Chrissie Boughey and Dr. Peter Clayton. In the opening address, Dr. Boughey noted that the book was offered a different perspective on what universities can do, and the experiences of students who study in them. She stressed that it was a useful resource and recommended that it be a compulsory reading for all those involved in teaching and learning, and particularly those tasked with 'managing' it. The atmosphere in the room was lively and friendly, however, in her concluding remarks, the mood became more serious as Dr Boughey indicated that what made the book especially significant at this time in our history of higher education was the hope it offers.
Authors present at the launch, Sioux McKenna and Disa Mogashana, spoke to a very important theme, the public good role of higher education in the life of students. Often the effects university has on students in terms of who they are as people, citizens, intellectuals or thinkers are not celebrated as much as the emphasis on work-readiness is. Yet what emerged in the interviews on which the book is based was a valuing of the public good benefits that came with going to university. The authors end the book with the question, "What kind of young people have we formed in our university graduates?" Their response is that these young people are independently minded and socially progressive, they act with thoughtfulness and responsibility. They are thinkers and are able to engage critically with the world.
The book is available for free download here:
http://www.africanminds.co.za/dd-product/going-to-university-the-influence-of-higher-education-on-the-lives-of-young-south-africans/