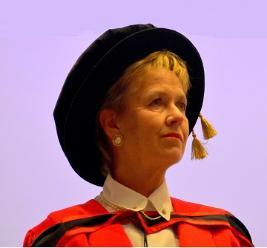 Transforming education through educators: Inaugural Lecture
Rhodes University presented Professor Di Wilmot's Inaugural Lecture titled Transformative Teacher Education in a time of crisis on Thursday, 7 September 2017 at 18h30 at the Eden Grove Blue Lecture Theatre.
As the Dean of the Faculty of Education, Professor Wilmot has dedicated her life to the systematic progress of society through education. Her lecture is a look at the status quo and how the quality of education for all remains an elusive ideal for South Africa, 25 years after political freedom.
"Our education is characterised by severe inequalities along racial and socio-economic lines, high dropout rates and low learning outcomes. Globally and nationally, it is recognised that the quality of an education system cannot exceed the quality of its teachers or the quality of its teaching," said Wilmot.
For Prof Wilmot, the focus of this lecture is on how teacher education at a systemic, institutional and personal level, is responding to the quality education imperative in the context of a complex, multi-dimensional and ongoing crisis in schooling.
"It juxtaposes a sobering account of this crisis, which has invoked an emotive response of despondency, despair, and loss of confidence in many South Africans, alongside an account of transformative teacher education initiatives which may engender hope and confidence for the future," said Wilmot.
She adds "although South African education is fraught with challenges it remains vibrant, dynamic and full of opportunities for innovation, re-imaging and renewal".
Professor Wilmot holds a Bachelor of Art degree, Higher Diploma in Education (PG Sec), BEd, Med and a PhD from Rhodes University.
You can click on this link for the Inaugural Lecture Professor Di Wilmot September 2017