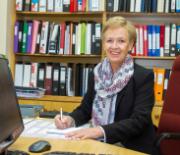 Exciting developments have taken place under her watch, with a strong emphasis on accelerating the transformation agenda and serving the Eastern Cape, while also strengthening research collaborations within South Africa and internationally.
The Faculty, made up of two Departments, three Institutes and four Research Chairs, is in an expansion phase. This year, the enrolment stands at just over 1 000 students – some 12.5% of the total student body at Rhodes. Of these, some 85% are black students, and just over 50% are at postgraduate level. According to Prof Wilmot, the most significant change has been the introduction of the B.Ed (Foundation Phase) undergraduate degree that encourages and facilitates the entry of mother-tongue isiXhosa speakers into the teaching profession.
As a scholarly Dean, Prof Wilmot has strong research interests of her own, mainly in the fields of curriculum development and pedagogical change.
She has a growing international profile, and is the only person from Africa to have been nominated to serve on the International Geography Union's
Commission on Geography Education. She is also a founding member of the African Education Deans Forum.
Grounded in academia, but with an elevated awareness of practical and strategic imperatives, the Education Faculty is in good hands moving forward.