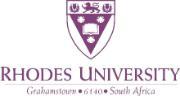 "As an institution of higher learning we cannot sit and watch when young people amongst us are condemned to a life without hope; a life of despair because of the
failure to provide them with the education they need and deserve. We must brighten the corner where we are." - Rhodes Vice- Chancellor, Dr Sizwe Mabizela, inauguration address, February 2015.
To achieve greater schooling equality in Grahamstown, Dr Mabizela has been leading a multi-dimensional programme called 'Reviving Grahamstown Schools'. As part
of this, the Vice-Chancellor made funding available for the Principals' Programme
– an accredited leadership development programme for all the principals in Grahamstown's government schools, primary and high. Developed and run by Rhodes Business School, the three two-day teaching blocks are held during the course of this year at Rhodes Business School.
"We jumped at the opportunity to make this contribution because it is the principals and teachers at our schools who create the environment and set the bar for learning to happen," says Professor Owen Skae, Director of Rhodes Business School. He says the initial impetus for this programme came from Dr Ashley Westaway, the Director of GADRA Education and independent research professional, Ms Cathy Meiklejohn, who is based in Grahamstown. GADRA Education is the leading education NGO in Grahamstown, and the town's oldest community organisation.
"We got together with members of the Rhodes Business School team, the Head of Department of Management at Rhodes, Mr Trevor Amos and Professor Callie Grant from the Faculty of Education (whose teaching and research interest is educational leadership and management) to workshop a programme that would be fit for purpose," Prof Skae explains.
"We then engaged with principals and administrators from 24 government schools in Grahamstown to find out if the programme resonated with them, to add areas they required and to clarify their needs."
Rhodes Business School's research coordinator, Professor Noel Pearse, is the overall architect of the Principals' Programme that includes the following, interconnected spheres of leadership:
Personal mastery (leading yourself)
– discovering your strengths, stress management and moral intelligence;
Leading others – building collegiality, performance management, group dynamics, team leadership, delegation and distributed leadership, leadership and self-deception;
Leading your school – sustainable, strategic leadership, stakeholder engagement, problem-solving and decision-making, leading change, organisational culture and crisis leadership; and
Programme integration – assignment requirements, self-directed learning and reflection, critical leadership and linking all the spheres of leadership.
The principals who complete the 250-hour programme and all the assignments receive an NQF Level 8 Certificate in School Leadership.
"Our first teaching block was in March this year, our second in June and our third and final will be in October," says Prof Pearse, who believes that true leadership starts with personal mastery or leading yourself.
As part of his personal mastery presentation on the programme, he draws on the approach of Marcus Buckingham, author, researcher, motivational speaker and business consultant. "His approach is for each person to discover their strengths in a tangible way," says Prof Pearse. "It is not about identifying your skills and ability, it is about discovering which activities in your work and day give you a feeling of flow and inspiration from being immersed in them. These are your strengths and once you identify them – for a principal is might be leadership, teaching or admin – you can then begin to structure your support team according to each person's strengths."
The feedback from the principals about the programme to date has been extremely positive. Principal Faith Coetzee from Mary Waters High School, a dual medium, non- paying school of 1060 learners, and one of Grahamstown's oldest schools, says:
"As a new principal, the Principals' Programme has given me (and in turn the Mary Waters staff ) the tools and motivation to effectively lead and manage the school in these challenging times. It has also created a network of principals who support one another by sharing and advising on practices to be adopted by schools to address our everyday challenges and achieve our goals."
"Within the programme we needed to create sufficient time for the principals to connect with each other, to share the problems they are experiencing and to visit
each other's schools. A secondary outcome of this programme is to build a strong support network for the principals,"says Prof Skae, who is one of the facilitators on the programme.
Principal Edward Kuchaka of the Grahamstown Adventist Primary School comments: "I can now confidently draft a strategic plan for my school, and I know how to monitor it. I also understand how to prioritise the many stakeholders to whom
I am accountable. And I have a deeper understanding of how the style of leadership determines the culture of my school. I have gained a lot from this programme."
"Just as the principals are learning from us, we are learning a huge amount from them," adds Prof Skae. "Much of our
leadership development at Rhodes Business School is in the private sector and school leadership brings a different dynamic. Down the line it will provide engaged research opportunities for us and other disciplines,
to further integrate with the schools and institutions in our area, where we believe we can play a much bigger role."