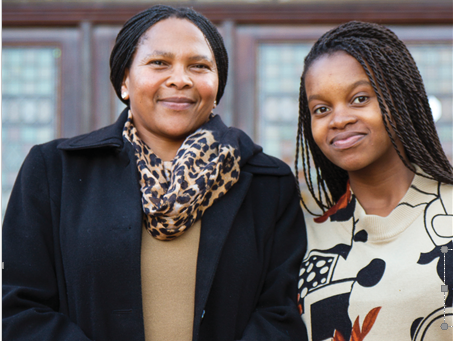 It is not every day that you encounter young people who ascribe to complete excellence, despite trying circumstances and a myriad challenges. Asithandile Calata, an 18-year-old student from Dutywa, is one such person whose talent and hard work has earned her the moniker of maths wonder kid.
Studying towards a Bachelor of Commerce in Accounting, Calata is doing her first year at Rhodes. Having come from a poverty-stricken community where most young people will not have the opportunity to access tertiary education, she is a great example of what talent, hard work and perseverance can help one achieve.
Fezeka Mkhwane, cluster coordinator at the Rhodes University Mathematics Education Project (RUMEP), helped to bring Calata to Rhodes. The RUMEP specialises in working with communities and academics to identify and support students from disadvantaged backgrounds who have the potential to succeed.
As a key facilitator and organiser of RUMEP's programmes, Mkhwane has dedicated her professional work and university career towards improving higher education teaching and learning in schools around the Eastern Cape. Teachers from selected parts of the province are given the opportunity to attend intensive contact sessions that are run over the duration of two to three weeks, where improved teaching and training methods are shared across the board. The idea is that once teachers have completed the course, they will be able to return to their respective schools with well-developed teaching portfolios to achieve better teaching and learning mathematics outcomes in the classroom.
Calata's maths teacher attended one such set of contact sessions, and told of her wishes to help further the education of one of her brilliant maths pupils. Having performed exceptionally all through her junior or cluster years (grades 1 to 9) at Vulithuba Junior Secondary School, Calata then attended Colosa Senior Seconday School where she continued to surpass her peers.
Her former teacher was able to keep in contact with Mkhwane and RUMEP. Mkhwane later visited Calata at her school to assess her academic progress. Satisfied with her performance and tremendous amount of promise, especially since Calata's Rhodes application was successful, Mkhwane then sought to find sufficient funding for her to join the Rhodes family in 2015.
Calata was soon able to enrol at Rhodes with full financial support for both her tuition and residence fees.
On the importance of granting opportunities to competent students to further their tertiary level education, Mkhwane said: "Everyone deserves the chance to improve their situation, and education is the best way to do that. When we educate one, we open up the power to educate a whole community. Everyone benefits, not just the individual but their family and the community as a whole." She admires Calata's capabilities, commitment and dedication.
Calata says she does not yet feel that the title 'wonder kid' is appropriate. She faces quite a few challenges in her first university year. Among them are her first-time encounter with Accounting as a subject – which she admits is extremely difficult – and the prospect of having to be taught and to do all her learning in English (as opposed to isiXhosa). Despite this, however, she feels confident that not only will she be able to cope but that she will obtain superb marks by the end of the year.
She dreams of completing her degree, securing a good job, and building her mother a beautiful home one day. "I accept myself and my background, and I will do all that is necessary to make it."