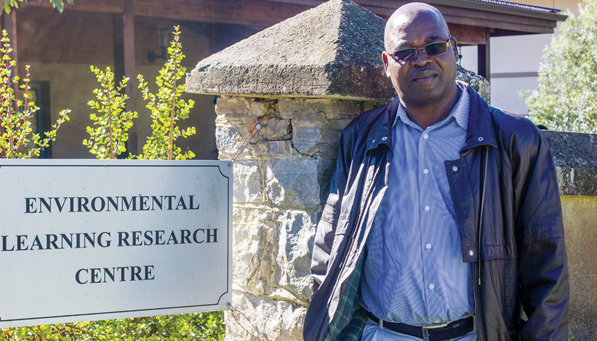 Dick Kachilonda's journey at Rhodes has been an arduous but rewarding one, culminating in him obtaining his PhD. The Malawian Department of Fisheries saw potential in a young extension officer working with the fishermen along the shores of Lake Malawi in 1998. Kachilonda was sent on a six month course involving a tour to South Africa and it was while visiting Rhodes that Kachilonda heard about the Environmental Education (EE) course. This is where his graduate studies began.
The EE course offered by the Environmental Education Learning and Research Centre (ELRC) meant travelling down from Malawi to complete five modules of two weeks each in Grahamstown. Each module required six days of travel for the 10 days of contact time.
"There used to be one bus between South Africa and Malawi every two days and at times I would find the bus full or, due to delays on the way up from Grahamstown, find the bus gone. It was very difficult because I used to have less or no money when going back and missing a bus meant sleeping at Park Station. I tried hard to not let my lecturers know this because it would mean them giving me money and I avoided begging from people who had done so much good for me," said Kachilonda.
These long and difficult journeys did not deter him, he credits his lecturers and fellow students, who became part of his life and family, for making these trips worthwhile. He would spend the time on the bus reading, finalising assignments and preparing himself for the contact sessions.
"I had wonderful people around me who kept on helping and encouraging me and I told myself to be strong and finally I got what I wanted," he added.
After O-levels Kachilonda was not exempt to attend university. However, after certificate and diploma courses in fisheries resources management followed by a postgraduate diploma in rural extension and years of experience, he did an Advanced Certificate in Environmental Education which gave him enough credits to qualify for a Masters course in Education.
Obtaining his Masters cum laude in 2005, he was appointed Deputy Principal of the Fisheries College in Malawi and in 2007 was appointed College Principal. During this time he worked incredibly hard to ensure that the curriculum was in line to accredit the College to the University of Malawi. When he left in 2008 to join the SADC Regional Environmental Education Programme as Programme Officer, the paper work was in order and the College was accredited in 2010.
He worked with Environmental Education Practitioners in the 14 SADC member states and says that the challenges Africa is facing are complex and that education is a pillar to finding solutions. Kachilonda is now working with Pact Malawi, which is implementing a Fisheries Integration of society and habitat with a focus on biodiversity and climate change adaptation.
"The strong and wonderful SADC team I worked with together with the Rhodes University ELRC played a big role in the establishment of the eight Regional Centres of Expertise in the region. The process required a lot of mentoring and evidence of sustainable practices with extremely high-level engagement with international partners," said Kachilonda.
The road hasn't been easy but his qualifications from Rhodes make it all worth it and has paved the way for his son, Daffu Kachilonda, who has enrolled to do his Masters in Environmental Education through Rhodes.
The young Kachilonda began his career in banking but couldn't establish the connection between banking and environmental issues. He saw the work his father was doing and the impact it was having on the communities and was inspired to follow suit. He joined an NGO and soon he was following in his father's footsteps.