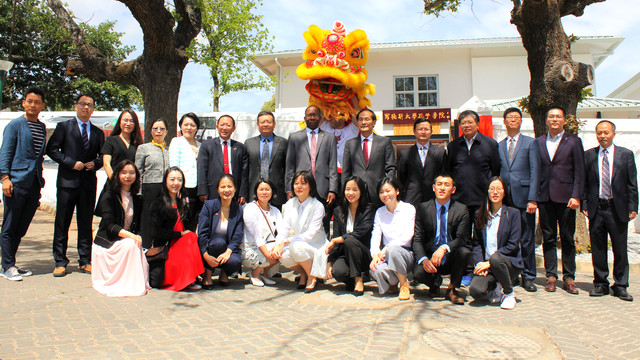 By Karabo Baloyi, MA in Journalism and Media studies
Delegates from as far as the People's Republic of China (PRC) travelled to Makhanda to celebrate the opening of the new model Confucius Institute Centre at Rhodes University on 9 November.
A Confucius Institute is a public educational organisation under the Ministry of Education of the People's Republic of China with the aim to promote Chinese language and culture, support local Chinese teaching internationally, and to facilitate cultural exchanges. South Africa currently has eight Confucius Institutes, including the one at Rhodes University.
Director of the Centre for International Chinese Education, Professor Zeng Yiping, gave a brief history of the Confucius Institute at the University: "The Rhodes University Confucius Institute was officially launched in 2008 with the help of the School of Languages and the University's partner university, Jinan University. The Institute offered Chinese studies as a full credit course from 2009, and since then, interest in Chinese Studies as a major has been growing."
Prof Yiping said that Jinan University would, as always, support Rhodes University in terms of providing qualified teachers to build a more professional teaching body and strengthening the quality of the University's Confucius Institute.
Rhodes University's Deputy Vice-Chancellor of Research and Innovation and Chairman of the Board of Advisors of the Confucius Institute, Dr Peter Clayton, congratulated the Institute on its quality. "Despite being the smallest institute in the country, our Confucius Institute's uniqueness is based on the quality of students we produce. We help produce graduates with formal qualifications and we've started offering postgraduate courses in Chinese language and cultural studies. We are the only university that has been named a model Confucius Institute based on quality and not on scale and we are hugely grateful to the Confucius Institute headquarters in Beijing."
Dr Clayton also explained the significance of the new building. "The architects of this building moulded the South African architecture with the architectural themes of China to give us this symbolic metaphor for the melding together of the South African and Chinese cultures."
Cao Li, Acting Consul-General of the Embassy of the PRC in South Africa congratulated Rhodes University on the opening of the new Confucius Institute Centre. "We are happy to learn that you will not only provide undergraduate education, but also actively enter the local community to provide basic Chinese language training and basic introductions to Chinese culture." He further expressed the hope that the education promoted by the Centre would help to promote friendship and development between SA and the PRC.
The Centre will be in full operation from January 2020.