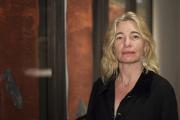 Rhodes > Fine Art > Latest News
Christine Dixie at Smithsonian Earth Matters
Date Released:
Fri, 3 May 2013 15:49 +0200
Christine Dixie, lecturer in the Fine Art Department at Rhodes University is one of the participating artists in the exhibition Earth Matters: Land as Material and Metaphor in the Arts of Africa which opened at the Smithsonian African Art Museum on April 22. She attended the opening ceremony which was addressed by Richard Kurin, Ph.D. Under Secretary for History, Art, and Culture, Smithsonian Institution and Johnetta Betch Cole, Ph.D. Director, National Museum of African Art.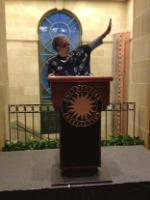 Earth Matters is the first major exhibition to examine the conceptually complex and visually rich relationship between African artists and the land upon which they live, walk, and frame their days. Approximately 100 artworks are on view in five thematic sections – The Material Earth, Power of the Earth, Strategies of the Surface, Art as Environmental Action and Imagining the Underground- the thematic section in which Christine Dixie's series of prints, Even In the Long Descent was placed.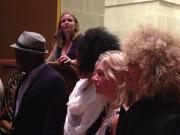 Other contemporary artworks included in Imagining the Underground such as a photograph by George Osodi and video by William Kentridge were placed in conversation with works from the mid-16th – mid-20th century.
Curator of Earth Matters, Dr. Karen Milbourne gives an opening address at the private preview and reception to celebrate the opening. Milbourne has been a curator at the National Museum of African Art since May 2008. Her expertise includes the arts and pageantry of western Zambia and contemporary African art. She has written a fully illustrated and extensive scholarly publication to accompany the exhibition; it will be available in August 2013.
Look for Christine's blog on the Earthmatters website from the 20th May.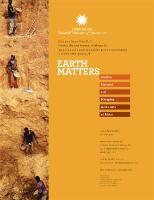 For further info: http://africa.si.edu/exhibits/earthmatters/index.html
Source: