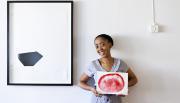 Rhodes > Fine Art > Latest News
Student life down to a fine art
Date Released:
Fri, 11 January 2013 09:14 +0200
Lerato Bereng is putting her job at a Jo'burg gallery on hold to pursue a master's degree.
Curator Lerato Bereng is taking a year-long sabbatical from her job at Stevenson Gallery in Johannesburg.
The Maseru-born curator is returning to Rhodes University, where she obtained her bachelor's degree. She goes back to the small frontier town of Grahamstown to study for a master's of art focusing on language and the accessibility of art.Not that art isn't accessible anymore. The Spear debate (or debacle) made sure that art became mainstream, even if the uproar that followed the artwork by Brett Murray is not the kind of attention that galleries and artists want.After studying in Grahamstown, Bereng moved to Cape Town where she interned under the Cape Africa Platform Young Curators programme.The Mail & Guardian asked her:
What are you reading?
I am reading Milan Kundera's The Unbearable Lightness of Being again. It's one of the only books that has stayed on my mind for years and every year proves to resonate with me in a different way.
Where do you like hanging out?
Lately it has been Great Dane. It has a great vibe and is really convenient for me [It's close to her work place, on Juta Street].
What music are you playing in your car?
Well, most recently I'm obsessed with traditional Sesotho music and only found out recently that the genre's called famo. That and the new school of Sesotho rappers, Kommanda Obbs and Barakus.
When you want to escape Jo'burg, which city or town do you like to visit?
When Jozi lights get a little blinding, I take a four-hour drive to Maseru, Lesotho. There's nothing that says reality better than seeing family in a small town.
Which part of Jo'burg do you like?
Well, I'd say the centre of Jo'burg is pretty cool. I spend most of my time in Rosebank, Braamfontein and the inner city.
What is your favourite food?
I have a chef friend who is responsible for our food education. Just when I think I've reached a culinary high, she brings it in a lick-the-plate kinda way. Aside from that, the love of my life is bacon.
What is the last film that you watched that blew you away?
I'm ashamed to say, Hotel Transylvania in 3D with my niece and nephew.
Wine or beer?
Wine. I like the idea of beer, though.
Now to a cheesy question: cheese or chocolate?
Cheese for now, but might be chocolate in an hour.
Do you watch TV and what is your favourite show?
The only purpose my TV serves is to watch series. At the moment my top programmes are Suits, Game of Thrones and Breaking Bad.
Written by: Percy Zvomuya
Picture Credit: Mail & Guardian Online
This article was published on the Mail & Guardian Online.

Source: