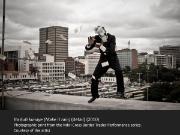 Rhodes > Fine Art > Latest News
Standard Bank Gallery to host Making Way: Contemporary Art from South Africa and China exhibition
Date Released:
Fri, 7 December 2012 09:38 +0200
Making Way: Contemporary Art from South Africa and China, explores the ways in which contemporary artists based in South Africa and China engage with new paths of movement, with economic and cultural shifts, and with the rise of new regimes, new leaders and new social and urban spaces.
The exhibition includes works in diverse media by internationally acclaimed Chinese artists, Wu Junyong, Chen Qiulin, Maleonn and Qin Ga and local artists Lebogang Rasethaba, Gerald Machona, Michael MacGarry and James Webb. Also on display are a number of videos of performance pieces by Doung Anwar Jahangeer, Hua Jiming, Qin Ga, Athi-Patra Ruga, Randolph Hartzenberg and Brent Meistre, which embed the action of 'making way' in personally, culturally and locally intimate ways.

This exhibition, curated by Ruth Simbao (Associate Professor of Art History and Visual Culture at Rhodes University), seeks to open up new conversations about cultural diversity, social tolerance and human understanding at a time of intense movement and change in the Global South.

Making Way: Contemporary Art from South Africa and China runs at the Standard Bank Gallery, corner of Simmonds and Frederick Streets, Johannesburg, from Wednesday, 30 January to Thursday, 28 March 2013. The Gallery (011 631 4467) is open Mondays to Fridays, 08:00 to 16:30; on Saturdays, 09:00 to 13:00; and is closed on Sundays and public holidays. Admission is free.

For more information about Standard Bank Gallery see www.standardbankarts.co.za. For more information about Making Way, visit www.makingway.co.za.
Picture credit: www.makingway.co.za
Source: