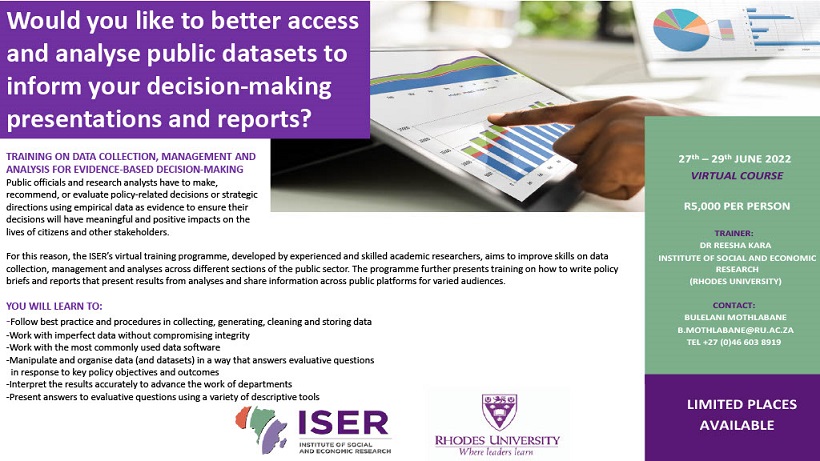 Training on basic Ms Excel functions, analysis of public-use data and interpretation of results for evidence-based decision-making.
Public officials and research analysts have to make, recommend, or evaluate policy-related decisions or strategic directions using empirical data as evidence to ensure their decisions will have meaningful and positive impacts on the lives of citizens and other stakeholders.
For this reason, the ISER's virtual training programme, developed by experienced and skilled academic researchers, aims to improve skills on identifying different data sources and variables, data analysis and interpretation using Ms Excel.
The programme further offers training on how to present findings graphically and in an accessible way, including sharing information across public platforms for varied audiences.
You will learn to:
Identify different sources of data and types of variables
Compute basic Ms Excel functions
Graph functions in Ms Excel
Compute and interpret descriptive statistics
Compute and interpret hypothesis tests
DATES: 27th– 29th June 2022
VIRTUAL COURSE
COST: R5,000 PER PERSON
TRAINER: Dr Reesha Kara
INSTITUE OF SOCIAL AND ECONOMIC RESEARCH RHODES UNIVERSITY
CONTACT: Bulelani Mothlabane, b.mothlabane@ru.ac.za, TEL +27 (0)46 603 8919
NOTE – NUMBERS ARE LIMITED, PLEASE ENROL ASAP
Source: ISER Training