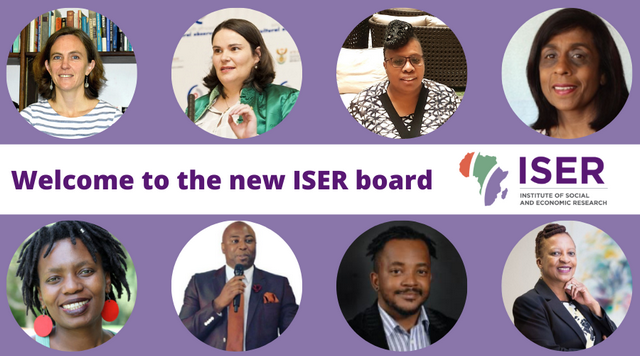 Rhodes University's Institute of Social and Economic Research (ISER) is pleased and excited to welcome its newly appointed board members. ISER Director, Professor Nhlanhla Cyril Mbatha said he is certain that the diverse skill set and wide-ranging experiences the new advisory Board has will effectively steer the course of ISER as it strives to become a globally-recognised centre of transformative social and economic research excellence in Africa.
The ISER Board serves as an advisory management committee whose purpose is to provide leadership, direction and advice to the ISER team. They advise the team on issues such as research focus areas, community engagement, areas for student supervision, financial and operational matters, the sustainability and growth of the Institute. The Board further supports governance-related decisions and provides guidance on issues of branding marketing.
Board members represent a variety of deeply relevant fields, including cultural, development and environmental economics and sustainability; entrepreneurship; peer mentorship; community engagement and development; education and skills development; science, arts and culture; finance, etc. They hold senior positions in academia, business, the public sector and in applied research areas. Most importantly, each of them share ISER's passionate commitment to contributing towards a fairer, more just and equitable society through championing an Africa-led enquiry, innovation and knowledge-sharing.
They represent different departments within Rhodes University, including the Head of Political and International Studies, Professor Sally Matthews; Professor of Economics and Chief Research Strategist at the South African Cultural Observatory, Professor Jen Snowball and Alan Macintosh Research Fellow for Institute for the Study of the Englishes in Africa, Dr Rethabile Mawela.
Well-known historian, Professor Naledi Nomalanga Mkhize, represents Nelson Mandela University. "We are also excited to have Distinguished Research Specialist and a respected authority on education policy, from the Human Sciences Research Council (HSRC), Dr Vijay Reddy. Dr Reddy was, for more than ten years - until 2018, the Executive Director of the Education and Skills Development programme at the HSRC," said Prof. Mbatha.
From the business world, ISER welcomes seasoned entrepreneur, speaker and life coach Mr Henry 'Cole' Davids, founder of several entrepreneurship and mentorship organisations and a Young African Leadership Initiative (YALI) Fellow. Chief Curator at the Red Location Art Gallery, Mr Uthando Baduza, represents arts, heritage and education. Economist and policy analyst of international repute, Dr Renosi Mokate brings in her wealth of leadership experience from across business, the public sector and academia to the board. Dr Mokate is a former deputy governor of the Reserve Bank of South Africa, a former Executive Director of the World Bank Group Sub-Saharan Africa desk and currently serves on President Ramaphosa's Economic Advisory Council.
"We could not have asked for a better group of talented people to support and guide the Institute as we become a dynamic African hub of pioneering social and economic research. Please learn more about each of our board members in the section about the Board," concluded Prof. Mbatha.