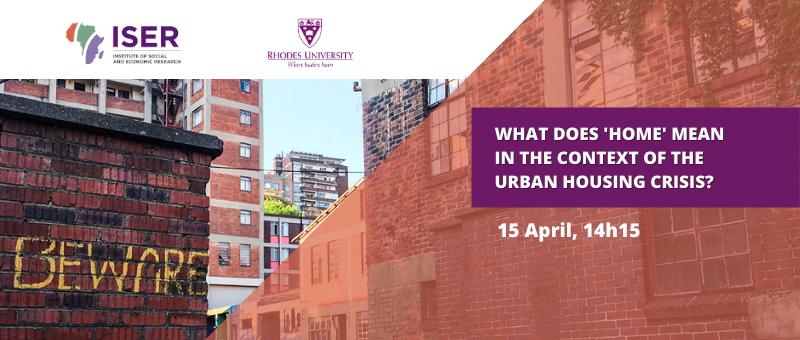 The Institute of Social and Economic Research (ISER) at Rhodes University invites you to join a collaborative webinar discussion where we ask the question:

What does 'home' mean in the context of the urban housing crisis?

The growing socio-political and economic crises that face South Africa and many of its neighbouring countries have put almost impossible planning and administrative pressures on local governments, particularly the metropoles like the City of Johannesburg. In many cases the pressures are ushering in systemic collapses of public service provisions, which result in unbearable living conditions, especially for the most vulnerable residents of the inner city. These include the poor working class, unemployed South Africans, many of whom are internal migrants, as well as migrants from other African countries who come seeking refuge in these cities. The migrants often come from worse economic and political conditions in their places of origin.
In his recent research paper titled, THE CITY OTHERWISE: The Deferred Emergency of Occupation in Inner-City Johannesburg, Dr Matthew Wilhelm-Solomon captures the mood of the socio-political crises facing the leadership and management of the City of Johannesburg as follows:
"In 2017, Mayor Herman Mashaba, announced a campaign of "shock and awe" in inner-city Johannesburg, pronouncing the city a "battlefield". The city's so-called hijacked buildings - also known as "bad buildings" or "dark buildings" were portrayed as a blight on the city, full of criminals and undocumented migrants. Mashaba, who as a young man had experienced the continued violence and insecurity of police raids, adopted raids as a primary strategy in his approach to issues of crime and housing in the inner city.
But what were these buildings, and who occupied them? How is one to understand the character of this occupation? And what did closing them imply? Where were the occupants to go?

While some of these issues are being resolved through protracted social, political, and juridical processes, COVID-19 has brought new challenges for inner-city residents. Dense living conditions and limited water supply mean that residents of occupations struggle to follow public health guidelines, with potentially dire consequences."
In this seminar, we will discuss:
What is the long term solution to urban housing shortages other than relying on eviction, relocation and temporary emergency accommodation?
What does 'emergency' and 'temporary' mean when most settlements have become long-term?
What are the practical and political obstacles to expanding inner-city affordable accommodation?
In the absence of a clear legal definition of home, how should we understand the social, emotional and political meanings of the term?

Date: 15th April 2021
Time: 14h15 to 15h45 (SAST)
Presenter:
Dr Matthew Wilhelm-Solomon
Lecturer in anthropology, University of the Witwatersrand
Migration and Health Project Southern Africa (maHp)
Respondents:
Ms Mpho Raboeane
Attorney, Ndifuna Ukwazi

Ms Meloney van Eck
Executive leading Strategic Support, Housing Development Agency (HDA)
Chair:
Prof Cyril Nhlanhla Mbatha
Director of the ISER, Rhodes University
Register: https://bit.ly/3dgFIOn
SPEAKER PROFILES:
Dr Matthew Wilhelm-Solomon is an urban and medical anthropologist with a particular interest in non-fiction narrative. In the Anthropology Department of the University of the Witwatersrand, Johannesburg, he teaches the second-year course Lifeworlds of the City and the post-graduate Ethnographic Writing and Analysis courses. Matthew holds a doctorate from the University of Oxford, which was an ethnographic study of HIV/AIDS treatment programmes to displaced communities in northern Uganda. His research since 2011 has focused on themes of unlawful occupation, eviction, social movements, migration, health access, and religion in Johannesburg. He is also an associate researcher of the Migration and Health Programme Southern Africa (https://www.mahpsa.org). Matthew has published widely in South African and international journals including Medical Anthropology, Current Anthropology, Cultural Anthropology, Critical African Studies and the African Cities Reader, and a number of newspapers and journalistic publications including the Mail & Guardian, Daily Maverick and New Frame. He is the lead editor of the book 'Routes and Rites to the City: Mobility, Diversity and Religious Space in Johannesburg' (Palgrave-MacMilllan, 2016) and a contributing co-editor to 'Affective Trajectories: Religion and Emotion in African Cityscapes' (Duke University Press, 2020). At present he is completing a non-fiction narrative book on unlawful occupations and eviction in Johannesburg. Matthew lives between South Africa and Brazil, and in his free time is a fan of jazz, yoga, football and literature.
Ms Mpho Raboeane holds a Bachelor of Commerce degree in Politics Philosophy and Economics and LLB from the University of Cape Town. She completed her articles with the Legal Resources Centre in 2017 and was a Bertha Justice Fellow. Mpho is currently an attorney at the Urban Land Justice organisation, Ndifuna Ukwazi and leads their 'Resisting Evictions and Displacement' Task Team. The organisation promotes the realisation of Constitutional Rights and Social Justice – through legal, research and organising support to working class people, communities and social movements. The organisation works to advance urban land justice – that is the protection and promotion of access to affordable, well located housing in Cape Town; building inclusive and sustainable mixed use and mixed income communities; and supporting tenant rights and security of tenure in both private and public housing. Ndifuna Ukwazi also specialises in community based social auditing of service delivery; access to information and procurement monitoring at the local government level; budget analysis and advocacy; and activist education.
Ms Meloney van Eck is currently an Executive leading Strategic Support at the Housing Development Agency (HDA). She is a seasoned Administrator in Human Settlements with immense experience in the Public Sector, with her career spanning over two decades in various Executive roles. Some of Moloney's notable roles include serving as Chief of Staff in departments such as National Human Settlements, National Arts and Culture, Economic Development, Agriculture and Rural Development in Gauteng Province. Meloney has also served as Deputy Director General in Human Settlements, Gauteng Province, responsible for Regional Coordination and Programme Management. Meloney is a Graduate of the Tshwane University of Technology and University of Pretoria, amongst other Institutions. She is currently advancing her Business Studies with Southern Business College.
Register: https://bit.ly/3dgFIOn