Rhodes > JMS > Cue Media
Cue Media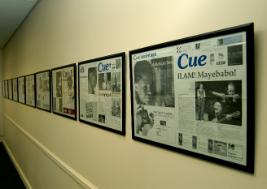 CueMedia is one of the School of Journalism and Media Studies' longest-running projects. Cue newspaper is the flagship project falling under the CueMedia umbrella and had run until 2016. Other projects under the CueMedia umbrella include CueTV, Cue Radio, Cue Online, and CuePix.
Read more about the history and future of Cue in the Rhodes University alumni publication: Rhodos Festival edition
Cue newspaper
Cue is a focused, short-term, daily newspaper for the National Arts Festival held in Grahamstown each year. It provides the School with a vehicle for practical learning by students and enables students from the different print specialisations (writing and editing, photojournalism and design) to come together to work on a single project under the guidance and tutelage of experienced staff and arts journalists. It has become an integral part of the festival, and is considered by many to be indispensable to the occasion. Cue provides a variety of information through reviews, previews, listings, etc. for the artists and public who attend the festival as well as being a record and showcase of some of the work staged. The newspaper ran until 2016. In 2017 it moved to an online platform (Cue Online).
CuePix
CuePix is the school's photo-agency producing photographs of as many of the shows and as much of the life around the festival as possible in 10 days. Using a team of 10 to 15 photographers, CuePix produces a database of over 4 000 images. These photographs are used in Cue as well as other commercial media and by performers and exhibitors at the festival.
CueTV
Television students have worked on a variety of festival projects over the years, from live TV production to the creation of TV packages for sale to TV stations around the country to the production of festival news clips to be distributed over the web. This project gives the TV students the opportunity to work in real-world deadline driven environments.
CueRadio
CueRadio students have for the past few years been been working with School staffers and visiting lecturers to provide festival news in three languages to various SABC stations. They have also begun working with festival news podcasts to be distributed over the internet from the National Arts Festival website.
Cue Online
The School's New Media students have the task of pulling all this together in one place, providing an online platform for Cue, as well as creating their own multimedia products consisting of audio-driven slide shows and multimedia pieces compiled from material from all the other CueMedia projects. This project under the tutelage of New Media Lab staff has provided a space for eight of our own school's students and students from and journalism students from the Utrecht Hogeschool in the Netherlands, to work together in a digital convergence exercise.
Last Modified: Fri, 15 Jun 2018 10:51:25 SAST