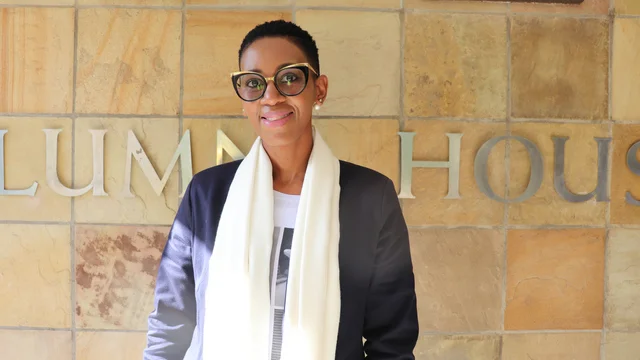 There comes a time in some people's lives when the seeds they have been carefully planting throughout their careers, come together to form a beautiful tree. This is the sentiment of the recently-appointed Development and Fundraising Manager at the Division of Communication and Advancement, Ms Siyasanga Hompashe. The vacancy was created by the resignation of Mr Qondakele Sompondo, who took up a Director position at Sol Plaatje University. An alumna of Rhodes University, Siyasanga, took up her position on 01 October 2021, hoping to give back to her alma mater.
"I feel that this is a season of making sure that all the experience I have gained up to this point is brought into this position. What is even more amazing is that my Rhodes University qualification is the one that propelled my career to be where it is today," she explained. "It gives me a sense of having come full circle."
The newly-appointed Development and Fundraising Manager hails from Mkhangiso location in Qonce. Siya, as she is affectionately known, matriculated from Phandulazi Agricultural High School in 1999. She holds a Bachelor of Arts degree and Postgraduate Certificate in Education, both from the University of Fort Hare. She has a Postgraduate Diploma in Journalism and Media Studies from Rhodes University and is currently doing a Master of Management in Business and Executive Coaching with Wits Business School.
She brings a wealth of experience from teaching, business, higher education, local government, and the private sector. Among the positions she's held, she worked as a Communications Officer at Volkswagen South Africa in Kariega, Communications Specialist for Metropolitan Health Group, Educator at Uviwe Senior Secondary School in East London, Communications Specialist for Nelson Mandela Business Chamber, Senior Sub Editor for Avusa Media, Communications Manager for Nkonkobe Local Municipality, Stakeholder Relations Manager at Stellenbosch University and Senior Alumni Relations Officer for Wits Business School.
Siyasanga said she grew up as an introverted individual. However, her professional experience pushed her out of her shell, and she is today an ambivert. "It was good of me to diversify in terms of my studies because I was able to switch from teaching to working in the media and now in Communications. This has awarded me with a wealth of experience, which I am bringing to Rhodes University. Also, having worked with people from diverse backgrounds, my career has overshadowed my personality, as my interpersonal skills have improved dramatically. I enjoy working with people, I love laughter, I love life, and above all, I love God," she said.
Siyasanga is the last born of eight children and is a mother of three boys. "God saw it fit to give me a responsibility to raise and nurture only men in this world," she said laughing ", and I accept the challenge, especially because the boy-child is an endangered species and tends to be the neglected one in society".
Siyasanga regards herself as a manager who works collaboratively with a team. "I may be a manager, but I will never be a manager amongst the team members. I am because we are," she concluded.