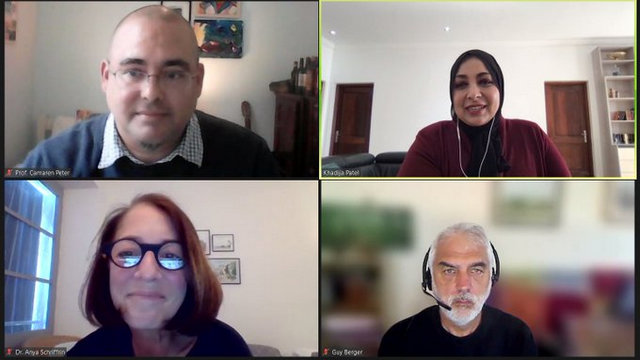 By Lindeka Namba, School of Journalism and Media Studies student
The afternoon session of the second day of the Highway Africa virtual conference kicked off on 22 June with the highly anticipated panel discussion titled: 'Big tech and data, disinformation, truth and inertia'.
With day one having a clear focus on the activities of the big tech companies, day two took a closer look at the datafication strategies of the big tech companies and their implications for society.
Chaired by investigative journalist and freelancer Khadija Patel, the session began with presentations from panellists, followed by a discussion by delegates in attendance. "Since the beginning of the pandemic, we have realised the life and death cost of disinformation," said Patel in her introduction. "The cost of good information has become ever heavier,'' she added, noting that information has always been a certain kind of power and that media has always been at the core of how it is shared and spread on different platforms.
Director for Policies and Strategies on Communication and Information at UNESCO, Emeritus Professor Guy Berger presented issues concerning big tech companies and the inertia they usually display when confronted with matters of optimising truth and combating disinformation. "It is important to understand these companies as sites of contestation because they are subject to different external pressures," he said. "Those who are on the side of truth need to make it more difficult for companies to bend in ways that maximise disinformation and hatred."
He also mentioned the work being done by UNESCO in balancing freedom of expression and combating disinformation in one of its studies.
Founder of the Centre for Analytics and Behavioural Change (CABC) and Associate Professor at the Centre for Analytics and Social Change at UCT Business School, Professor Cameren Peter, touched on issues arising from the COVID-19 pandemic and disinformation.
He explained how CABC is a non-profit organisation (NPO) that counters misinformation, disinformation, and coordinated narrative manipulation, polarising rhetoric and hate speech.
Prof Peter said that his organisation was very successful in "turning the tides of disinformation" surrounding conspiracy theories, vaccine hesitancy and the general disinformation and confusion arising from the global pandemic.
Dr Anya Schiffrin, Director at Columbia University's School of International and Public Affairs, spoke about the opportunity cost of journalists, media practitioners, and other researchers having to "clean up the mess" left behind by misinformation and disinformation in our society. She noted that although regulation is often seen as a negative thing, as it often limits freedom of expression, it should be encouraged because it promotes fairness and creates urgency regarding the more critical issues.
Dr Schiffrin also explained the importance of big tech companies like Facebook putting in the work to censor posts from their platforms rather than leaving the bulk of the work to smaller and more private organisations. "There is a limit to what regulation and civil society can and should be doing," she said. She also pointed out how inertia could be avoided if the big tech companies were just pushed and pressured to act through regulation.
The session concluded with an open discussion between panellists and delegates in the form of question and answer. Panellists replied to questions by sharing links to informative websites and drawing on some of their research portfolios.
For more reportbacks on Highway Africa 2021, please visit www.ru.ac.za/latestnews