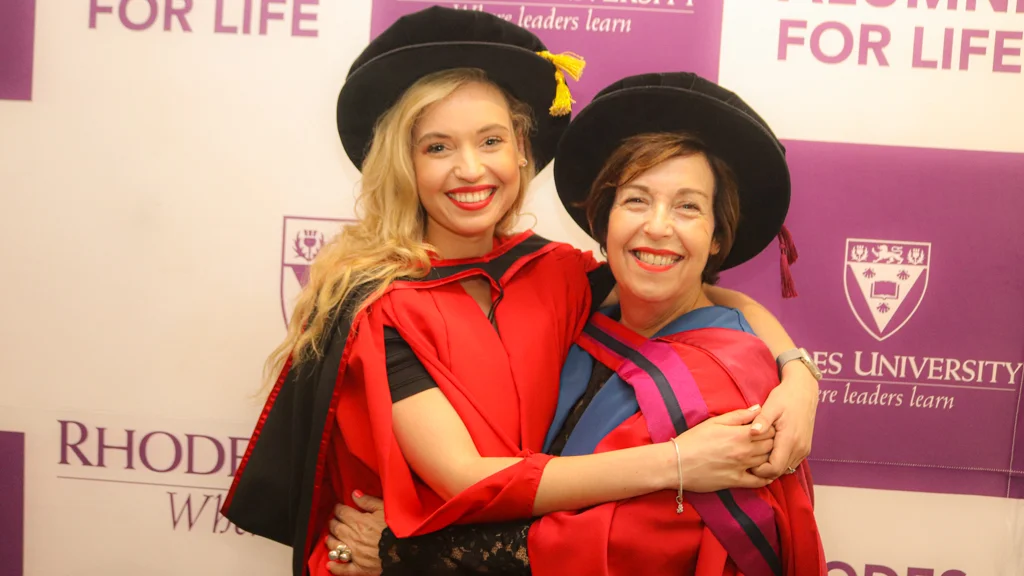 By Singisa Mdungwana
Nine years of consistent hard work and dedication have finally turned a dream into a reality for Dr Mikaela Oosthuizen. She finally received her PhD in Media studies from Rhodes university at the October graduation ceremony.
For some, growing up around educated parents is only an imagination, but Dr Oosthuizen has been a witness to academic excellence from a young age. From attending High School at a prestigious school such as Pearson High School in Gqeberha to being surrounded by great influences has been one of her greatest blessings.
Growing up in the small windy city of Gqeberha and waking up the next day to being referred to as "Dr" at the age of 27 has never seemed quite like a far-fetched dream for young Mikaela as she comes from a family of academics, with both her parents having obtained PhDs. She said her family, most especially her parents have always been the ones to play cheerleaders, encouraging her to push herself towards achieving bold goals.
When it came to the type of career she wanted to follow, it was never a difficult decision for her to make as she was always certain that she wanted to be in the media space and had a deep passion for it. "I have always enjoyed the media and marketing industry, and I was intrigued by digital innovation," she said.
Besides studying, Dr Oosthuizen had already been taking huge steps that were leaning towards her career in digital marketing and technology innovation by working for companies such as KFC on their eCommunications strategy. Apart from that, she has also been practising as a digital management consultant, working with brands such as Starbucks, Cartoon Network Africa, Spar and many other big brands.
Maintaining a balance between her academics and work commitments has been a huge challenge for her throughout her degree, but she was able to make it through with a great support system and great time management. She said that her parents would always tell her that she could become the star of the hour if she made the minutes count. She was quite diligent in using her time wisely to ensure a balance between academic pursuits and work.
Whenever she had those days of wanting to give up, she said that she had to remind herself what a privilege it was to study and that many out there would love the chance to pursue a PhD. "I was fortunate enough to be granted the opportunity, and so I did not want to waste it, I knew that if I did my best, God would do the rest and indeed there were many days His grace carried me through," she added.
She thanked her supervisor, Doctor Priscilla Boshoff. "My supervisor, Dr Boshoff has been an incredible partner throughout this journey and working with her was a highlight in my academic career," she fondly said. But the biggest of these highlights was also finally getting to put on her red gown at graduation and have the title "Dr" bequeathed on her after many years of hard work and having her mother, who is a professor at Rhodes University be the one to do the capping was very special to her.
Soon, Dr Oosthuizen will publish her research and work in the academic space whilst still practising as a management consultant in the digital marketing space, applying all of her learnings from her PhD. "Authenticity and virtual influencers is an interesting space that is gaining greater traction, I would like to have contributed to this research space significantly and continue to build on my career in digital marketing and technology innovation by helping companies accelerate their digital transformation," she concluded.