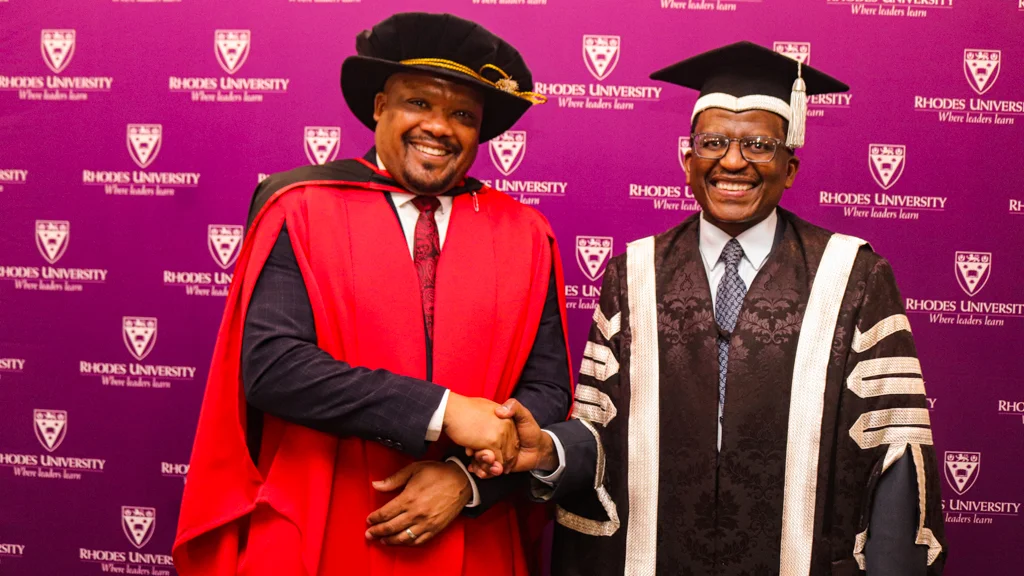 By Sivenathi Gosa - Daily Dispatch
Rhodes University's director of communications and advancement, Luzuko Jacobs, was among those who acquired their hard-earned doctorates at the university's graduation ceremony on Friday.
Jacobs was awarded his PHD in journalism and media studies, with his thesis being about the powerful, yet hidden, links between "regular" media discourses and deepening inequality and social degeneration in SA.
The adoption by parliament of the land expropriation without compensation bill is the context in the examination of the struggles between AfriForum, Moneyweb, City Press and the African Farmers' Association (Afasa) platforms to build certain meaning(s) and diminish other deserving meanings of the policy for specific reasons.
Jacobs said: "I might be leading a directorate, but what leads me is a concern about humanity, our country and our future.
"I believe we need scholarship to open new avenues for a new future that we have been talking about since 1652, when inequality came into this country, and deepened in 1913.
"In 1994, when we thought we were at a turning point, we discovered that things were getting worse, so my thesis was to look into this phenomenon and find out exactly what the nuts and bolts are that hold inequality, racial hate between people, that lead citizens to view themselves in the manner in which black and white South Africans view themselves."
Jacobs made use of media platforms that target huge and powerful constituencies globally and nationally.
"Moneyweb is a powerful commercial platform that targets investments and investors.
"City Press is part of Media24. It is huge in its own right. AfriForum punches way above its weight in liberal, global and capitalist setting, and Afasa deals with important issues that affect people at grassroots level.
"I sought to compare how they construct meanings to land expropriation without compensation.
"I sought to redefine the land question beyond just geographic and statistic forms of geography, but to relate to issues of inequality and beyond on how citizens relate in SA as South Africans."
"Those are the things that drove me in completing my PHD, and I feel today is a culmination and fulfilment of that mission where I now managed to get some findings and have hopefully contributed to society some understandings on what holds colonial apartheid, inequalities and capitalists in place and what hold racial hate found in colonialism and apartheid," he said.
He said the challenges faced by South Africans were much bigger than they believed.
"While City Press and Afasa stand for transformation, both are tapped in a monolith of liberal capitalism.
"They don't tick anything other than accommodation in an unequal economic set-up that was found in colonialism.
"I believe there is very little difference between them.
"In my results I plot the outcomes of my analysis on a continuum that has got no brakes.
"All of them have sediment colonialist structures in their discourse.
"All of them understand the land question has been a rural issue in the main. When they take it to the urban settings, they will see it as somebody looking for a plot of land.
"My thesis shows how those colonial structures in discourse are sedimented and actually characterised political discourse and political communication of the country."
The vice-chancellor of the university, Prof Sizwe Mabizela, congratulated Jacobs for the great job he had done in his department.
"Here at Rhodes University, we are an institution of learning, and every person learns regardless of their occupation. Dr Jacobs took full advantage of the opportunity and has produced a high quality of work."
DispatchLIVE