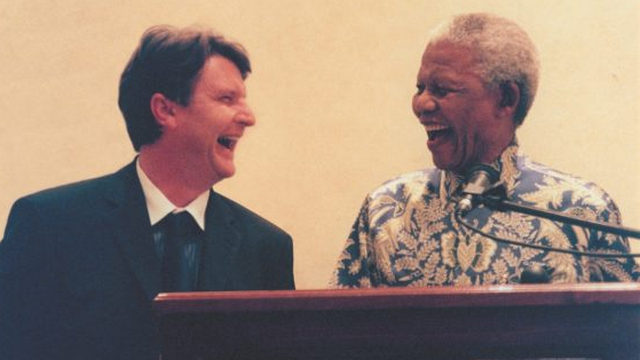 Shaun Johnson, founding Executive Director of the Mandela Rhodes Foundation and dedicated member of Rhodes University's Board of Governors, died at his home on Monday 24 February 2020, at the age of 60.
Johnson first became involved with Rhodes University as a first year student in the late 1970s. In 1981, he graduated with a BJourn degree, followed by a BA (Hons) in Journalism and Politics from Rhodes University in 1982.
Johnson continued his studies at the University of Oxford, where he was a Rhodes Scholar and later recognised as a Distinguished Rhodes Scholar (2019).
During the 1980s, Johnson became a renowned anti-apartheid journalist and was one of the early members of the Weekly Mail team (now Mail & Guardian). During his media career, he occupied positions at The Star (Johannesburg), Cape Argus, Saturday Star, and The Sunday Independent (as founding Editor). He was a member of Independent News & Media plc's International Advisory Board, Chairman of the Cape Town Partnership and a Trustee of various charitable organisations.
In 1994, he published a bestselling book about South Africa's transition, called Strange Days Indeed, with an introduction by Nelson Mandela. In 2007, he published his first novel, The Native Commissioner, which went on to win a Commonwealth Writer's Prize, the MNet Literary Award and Neilsen Booksellers' Choice Book of the Year Award. It also received endorsements from Nobel Laureates JM Coetzee and Nadine Gordimer.
In 2003, Johnson founded The Mandela Rhodes Foundation. According to the Foundation's website, it was built by Johnson "from the ground up, invigorated by Madiba's vision of changing Africa through its young leaders". The Foundation's vision of building leadership excellence in Africa exemplifies Rhodes University's motto "where leaders learn".
Over the years, 66 Rhodes University students have qualified and were awarded the Foundation's flagship scholarships, often in record numbers compared to other universities.
In 2004, the year Rhodes University celebrated its centenary year, Johnson was awarded a Distinguished Alumni Award – an honour which is bestowed on alumni who best represent the University's vision.
As his Foundation's website describes him, "Shaun's leadership was characterised by aspiring for the most audacious of goals, delivering to the highest standards of excellence, while inspiring and galvanising everyone around him."
Johnson "returned" to his alma mater in 2013, when he began his five-year term to serve on the University's Board of Governors.

"Our deepest condolences go out his family and loved ones. Shaun Johnson was the epitome of the kind of leader Rhodes University tries to inspire our students to be. We were privileged that, through the years, he remained involved with the University in some way or another. His generosity, dedication and humanity will persist in the hearts of the Rhodes University community for many years to come," Rhodes University Vice-Chancellor, Dr Sizwe Mabizela, said.
According to the Foundation, details of a public memorial service for Johnson will be announced in due course. In the interim, the family thanks friends, colleagues and acquaintances for their care and concern and asks that their privacy be respected during this time.
Shaun Johnson leaves behind his wife Stefania and daughter Luna.