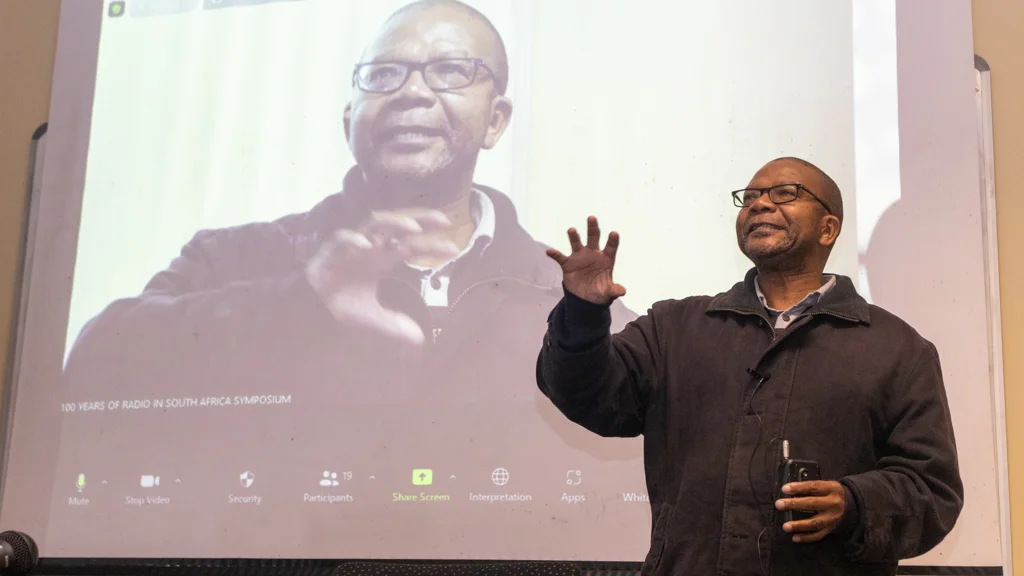 By Mathews Nthinya
Rhodes University School of Journalism and Media Studies (JMS) held a symposium this week to recognise and celebrate 100 years of radio in South Africa. The event was held to honour the significant contribution made by the Media Development and Diversity Agency (MDDA) in promoting social justice and diversity in South African radio institutions.
JMS Head, Dr Jeanne du Toit, gave an opening address. She highlighted the crucial study by JMS's audio lecturer, Shepi Mati, who investigated the agency and consciousness of educators involved in radio. She set the tone by recognising the importance of teachers as change agents.
MDDA Research and Capacity Building Manager, Lethabo Dibetso, praised the tremendous development of radio in South Africa over the last century. He gave a brief historical background, mentioning the first experimental radio broadcast on December 18, 1923, at the railway headquarters in Johannesburg. After a century, almost 90% of South Africans over the age of 15 either possess or have access to radios, according to a recent survey.
Dibetso emphasised the nation's unchanging preference for radio. He noted that millions of South Africans listen to over 200 community radio stations and 40 commercial and public broadcast stations daily. Radio's distinctive traits, such as its intimacy, immediacy, and sociability, remain unmatched in South Africa despite challenges posed by other media forms like television.
The MDDA Executive exhorted the audience to look ahead, especially at emerging digital media outlets like podcasts and online radio. He stressed that the Audio and Audio-visual White Paper's recommendations for changing communication laws and technological improvements in radio are necessary. He urged media practitioners to continue to produce broad, impactful, and developmental information.
To ensure radio's long-term viability, he underlined the importance of collaborations like the one between the MDDA and JMS. "These partnerships strongly emphasise community radio-specific research and skill upgrading," he said.
The chairperson of Radiocracy, Advocate Robin Sewlal, gave a keynote speech about the idea of "radiocracy" and how it affects the radio industry in South Africa. According to Advocate Sewlal, radio, democracy, and development are combined to create radiocracy, fostering a dialogue that advances democracy and societal development.
Advocate Sewlal discussed his book, "My Radio Memory," which was inspired by conversations at a conference for an international book fair honouring radio's 100th anniversary that took place in Durban. The book provides a thorough history of radio through the contributions of 100 listeners from all over South Africa and people connected to the 12 radio stations that were shut down. Another noteworthy aspect of Advocate Sewlal's address was the significance of university radio stations. He commended Rhodes Music Radio Station Manager Unathi Koboka for excellently managing the school's radio station. The Independent Communications Authority of South Africa (ICASA) has approved Rhodes Music Radio as the nation's first campus radio station with a license.
Additionally, Advocate Sewlal discussed the difficulties that community and public radio stations face. He said problems like ineffective leadership, unpredictable budgeting, undertrained staff, and bad governance are the downfall of radio. To ensure the expansion and success of radio, he stressed the necessity of addressing these issues quickly. He highlighted the importance of finding ways to maintain these essential radio services and noted how the difficulties with licensing and license money collection were particularly alarming.
The second keynote speaker, Senior Lecturer of Media at Cape Peninsula University of Technology, Dr Sisanda Nkoala, also referred to the "100 Years of Radio" book series, which academics and professionals from South Africa wrote. These volumes are a starting point for in-depth discussions about radio's function in the country's context. A vital tool created by their team, a timeline tracing radio's history in South Africa, was introduced by Dr Nkoala. The history of amateur radio enthusiasts is covered in this timeline, which also serves as a collaborative tool accessible to contributions from historians and linguists. It is an essential resource for understanding the development of radio.
Steven Lang, a seasoned journalist and former reporter for the SABC news division, presented his perspectives on the South African Broadcasting Services' interregnum period. Significant political and social changes occurred during this time in the nation. Lang described supposedly 1984-era covert meetings and questioned the importance of several events, including the 1992 whites-only referendum. He noted how different people's perspectives and responses to these events were, with some applauding F.W. de Klerk for his efforts and others believing that much more work remained to achieve true independence.
He highlighted the need for improvement in the training given to journalists so they could cover the elections objectively. He discussed the dynamic and changing nature of the news environment at the time.
The symposium provided a forum for lively debates and reflections on radio's past, present, and future as it commemorated radio's incredible century-long journey in South Africa. Each speaker offered insightful commentary on the lasting value of radio as a tool for advancing democracy, development, and a variety of national voices. The conference emphasised the significance of collaborations, research, and skill upgrading to safeguard the continuation of this cherished medium as radio continues to change in the digital age. It served as evidence of radio's continuing impact in South Africa as a news source and a spark for social change.