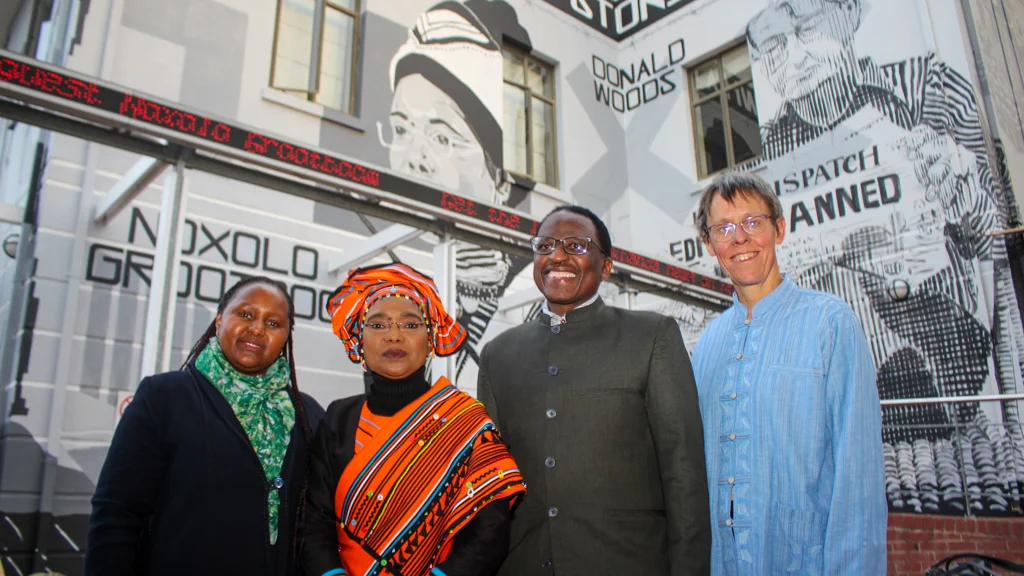 By Nwabisa Moyo
Rhodes University School of Journalism and Media Studies (JMS) unveiled its mural, which celebrates and honours industry legends, on Friday at the Afrika Media Matrix. The mural depicts the legendary former South African Broadcasting Corporation isiXhosa newsreader Dr Noxolo Grootboom, former Daily Dispatch Editor Donald Woods, Editor of South Africa's first indigenous language newspaper John Tengo Jabavu, ground-breaking woman writer Phyllis Ntantala-Jordan and the photographer whose famous book, House of Bondage helped to topple apartheid Ernest Cole.
Rhodes University Vice-Chancellor, Professor Sizwe Mabizela, said: "The unveiling of the mural is part of the celebration in honouring the many journalists and media practitioners, near and far, who have served the profession with great distinction." He encouraged people to pledge their unyielding commitment to and support for a free independent press as the cornerstone of our institutional democracy.
JMS Head, Dr Jeanne Du Toit, said the role of Journalism is more important than it has ever been as South African storytellers have been uniquely placed to invent traditions of journalism that respond well to contemporary challenges. "The commissioning of the mural was a project that was both rooted in the past and forward-looking. It was to celebrate storytellers, starting with the roles that they played throughout colonisation, democracy, and to look forward to the role that future graduates will play in future. The mural was made to show the rich media history of the Eastern Cape by commemorating the giants of the industry," said Dr Du Toit.
Dr Grootboom was the special guest at the unveiling. She spoke fittingly of the historical role played by radio in the preservation of indigenous languages, stating that "we find ourselves confronted with the demise of indigenous languages, and we need to create a climate and a space conducive enough to re-inject and keep the love, the passion, respect of indigenous languages burning in our youth."
Dr Grootboom spoke of the significant impact played by radio within the communities. She said: "The intimacy, the immediacy, and sociability of radio remain unmatched. According to UNESCO, language is inseparable from our way of being, our thoughts, our feelings, our joys, and so much more. It is through language that we show who we are". She urged future generations to learn from the history of radio, which promotes indigenous languages, stating, "I am not, in any way, discarding English as the medium that is often used in this country by government and mostly commercial spaces, by Universities, colleges, and other spaces. I am just merely emphasising that neglecting using one's language can be to its detriment," she added. She urged the students to learn from this history for the sake of the future.
The ceremony ended with the unveiling of the plaque, which tells the mural's story. Dr Grootboom concluded with her final words of comfort, "Nanga ngobubusuku, ningalala nombethe ingubo yemvisiswano, uxolo, no thando. Ndinithanda nonke emakhaya." (translated 'May you all sleep tonight with a blanket of unity, peace and love. I love you all at home')