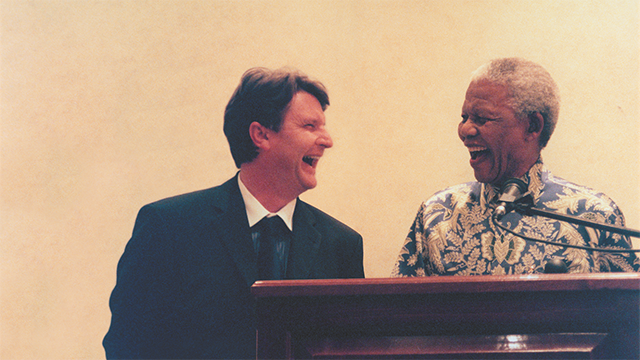 Tributes have poured in after veteran journalist and Mandela Rhodes Foundation founding chief executive Shaun Johnson died on Monday.
Johnson was deeply inspired by the possibilities of ubuntu and helping young leaders reach their full potential, said Judy Sikuza, CEO of the foundation, on Tuesday as news of his death spread.
"Our hearts will take some time to recover," said Sikuza of Johnson, who died on Monday at the age of 60 due to a sudden illness.
Sikuza said Johnson's lasting legacy spanned 532 scholarships, and he had a deep belief in promoting ubuntu and leadership in South Africa and the continent.
He also formed a sustainable funding model for the scholarships so the work at the foundation was not interrupted when he stepped down last year.
Former colleague and friend Chris Whitfield said Johnson, who he first met at The Star where he was political editor, was "an astonishingly gifted journalist".
He was also very committed to transformation in South Africa. "And he was a beautiful, absolutely beautiful, writer," Whitfield told News24.
Johnson was among the first journalists at the Weekly Mail, which rose out of the ashes of the Rand Daily Mail during apartheid, and was constantly under threat by apartheid government censors.
He was a deputy editor and political editor of The Star in Johannesburg, editor of the Cape Argus and the Saturday Star and was launch editor of the Sunday Independent.
He was a deputy chief executive of Independent News & Media South Africa and a member of the board of governors of Rhodes University.
He also wrote two books - Strange Days Indeed, which was a collection of his columns, and the poignant The Native Commissioner.
Tributes from old colleagues, friends and mentees also acknowledged his work and thanked him for supporting them in their careers.
Wrote Leonard Solms on Facebook: "He set up a day of job shadowing for me at the Cape Argus in my matric year and that was the day I decided on this career path. He gave me so many contacts and always gave me glowing recommendations to whoever he put me in touch with. All of this without asking for a thing in return."
Andrew Boraine wrote: "Bye Shaun, we will miss you. Thank you for your friendship, your contribution to South Africa, your commitment to your family and friends, your love of music, your writing and storytelling, and so much more."
Steve Pike wrote: "Go well Shaun Johnson. Send our regards to Madiba. You sought to actualise the best of South Africa. I hope you know how important this search was for all of us. RIP."
Johnson was also a recipient of the Rhodes Scholarship and was quoted in an interview as saying it was life changing for him.
Said Rashid Lombard: "Devastating news - had visited him 4 weeks ago and spent short time talking about archiving our mass of material of the 80s and the need to archive them ...... - an exceptional man and journalist. deepest sympathies to his beloved family."
The foundation's Sikuza asked for privacy for his wife, Stefania, and daughter, and said arrangements would be announced later.
Source: https://www.news24.com/SouthAfrica/News/tributes-pour-in-after-veteran-journalist-shaun-johnson-dies-20200225