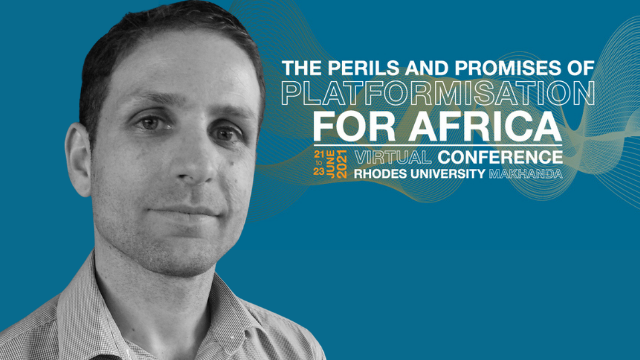 By Poelo Keta, Journalism and Media Studies student
On 22 June, Adi Eyal, Founder of OpenUp, a civic tech laboratory that blends data and technology to drive social change, gave a keynote address on Harnessing Big Data by African Media to Improve Journalism Innovation in a well-attended presentation as part of the Highway Africa three-day virtual conference.
The presentation began with introductory remarks from Nathalie Ndongo-Seh, the United Nations (UN) Chief Resident Representative in Eswatini. She reminded delegates that the media remains the crucial strategic partner of the United Nations everywhere. "In this last decade of action for social, economic, and environmental change that brings development across the world, the UN has consistently demonstrated - with great interest - how the media can play a greater role in accelerating the achievement of our Sustainable Development Goals (SDGs)," she said. She spoke highly of the Highway Africa Virtual Conference, which has as its core theme for 2021, The Perils and Promises of Platformisation for Africa. "The summit is looking at ways in which traditional forms of media have been threatened by the digital revolution of the past decade, including through platformisation, and it is seeking to find viable solutions and opportunities for these challenges," she explained.
Although not a journalist, Eyal holds a deep respect for the craft, especially since journalism goes hand in hand with the work that he does with data. "I'm not a journalist. What I am is a fan of journalism and what I bring to the party here is not the journalism, but hopefully the excitement and the curiosity that comes with using data," he said. Eyal is also the Lead Data Investigator at The Sentry, an investigative and policy team that follows and reports on "dirty money".
Traditionally, we think of datasets as just rows and rows of numbers, whether large databases of structured data, financial data, scientific, personal information, sports, prices, etc. According to Eyal, however, social media produces a lot of data too. Tweets are not just tweets, but connections between people, topic clusters, people thinking about particular issues, groups, tribes, etc., and we are all responsible for creating that set of statistics. "People often don't think about images as datasets, but they are. There's an interesting tool out there called PimEyes, and what it does is it identifies faces in pictures and performs facial recognition on those images. And you'll find other images of the same person in the picture, which is useful from a journalistic perspective," he explained.
So why interrogate social data? Well, Eyal explained, "human beings are creatures of habit, we often do the same thing, we get used to driving to work the same way or watching the same TV shows, and data that reports our actions starts to report those patterns. And looking at a large data set in aggregate, we can start to get a sense of how society works."
Although it seems straightforward, data can be manipulated, so the data you use may not always be factual. If it isn't, that data and your traditional investigative skills will help you unearth the dishonesty. "Certainly, you need to triangulate, interview people with some of the datasets. What we usually do is use public datasets to try to point us in the right direction. Then we can use private datasets or validated datasets to collect company records, for instance. The data just helps you sift through the media, the many different places you can look," he said.
To use big data to improve journalism innovation, Eyal urged journalists who wanted to learn technical skills to do so. He challenged attendees to change the meaning of what a journalist is today. "Journalists don't necessarily work in isolation, they work in multidisciplinary teams, and this is what is happening around the world. So from an innovation perspective, it's vital to try to expand the skills in a newsroom," he explained.
Eyal stated that he thinks journalism schools should include data as a crucial part of their curriculum. "Data needs to be part and parcel of the modern journalist's education – not necessarily to become an expert in data, but to have enough information and enough understanding of the process to be able to engage with the data," he concluded.
For more reportbacks on the conference's sessions, please go to www.ru.ac.za/latestnews.